This post is sponsored by PackIt. Thanks for supporting our site partners!
Back to school season is here and that means it's time to send those tiny humans who've been clearing the fridge all summer long on their way! We homeschooled the boys last year as we transitioned into settling in a new city. This year, they're going to school together and Jaxon couldn't be more excited to be going to brick and mortar school with his big brother! The pressure's on me though to pack their lunches. They love when I pack their lunches because I pack "lots of food" including a variety of fruits. Jayden says my lunches are healthier, too. He's on this health kick so the boy must have healthy food options, you hear me? We received their school's lunch menu and the choices aren't bad, but there's only so much creativity that can go into a cafeteria lunch.
So here I am tasked with packing the boys' lunches. I was totally prepared to break out our favorite freezable PackIt lunch boxes. Our freezers are home to many PackIt bags that we've purchased and received from our friends at PackIt. Well listen, our friends at PackIt alerted us of some of their new products and sent us a care package to make school lunch prep a little easier. They even sent products for Kiki! PackIt came out with a line of bento boxes, y'all, and I'm so in love with them!
PackIt's Flex Bento containers are an all-in-one container designed to fit PackIt's freezable bags. The Flex Bento is BPA free, shatter-resistant, freezer and microwave safe (without lid). Flex Bento features leak-resistant lid locks and includes 2 easy-to-use flexible dividers that can be repositioned and bent to fit food portions. Also included in this ingenious bento lunch system is a leak-proof dip cup for dressings and sauces. I was SO excited about this dip cup because this means the kids can have yogurt as a side. I buy the big tubs of greek yogurt so being able to scoop it into the cup is convenient and it eliminates creating extra trash with single-serve yogurts. Oh and don't think I'm over here tossing my large yogurt tubs. I save them to use as plant pots!
Back to the lunches. Being that we're entering the first week of school, I wanted to be a little extra in my meal choice. Enter breakfast for lunch! I made everyone Belgium waffles loaded with blueberries and sunflower seeds (nut alternative in case friends have allergies), topped with sprinkles because it's a celebration! I paired turkey bacon with the waffles and packed strawberries, blueberries, banana chips, vanilla greek yogurt to dip waffles in, a cheddar/mozzarella cheese stick, and juice.
The waffles are super easy to make. You can use your own waffle/pancake batter recipe or use a boxed mix, stir in some blueberries and sunflower seeds, and add sprinkles once you pour the batter on to the oiled waffle iron. While the waffles are cooking, cook up the bacon. Once everything's cooked, it's time for assembly!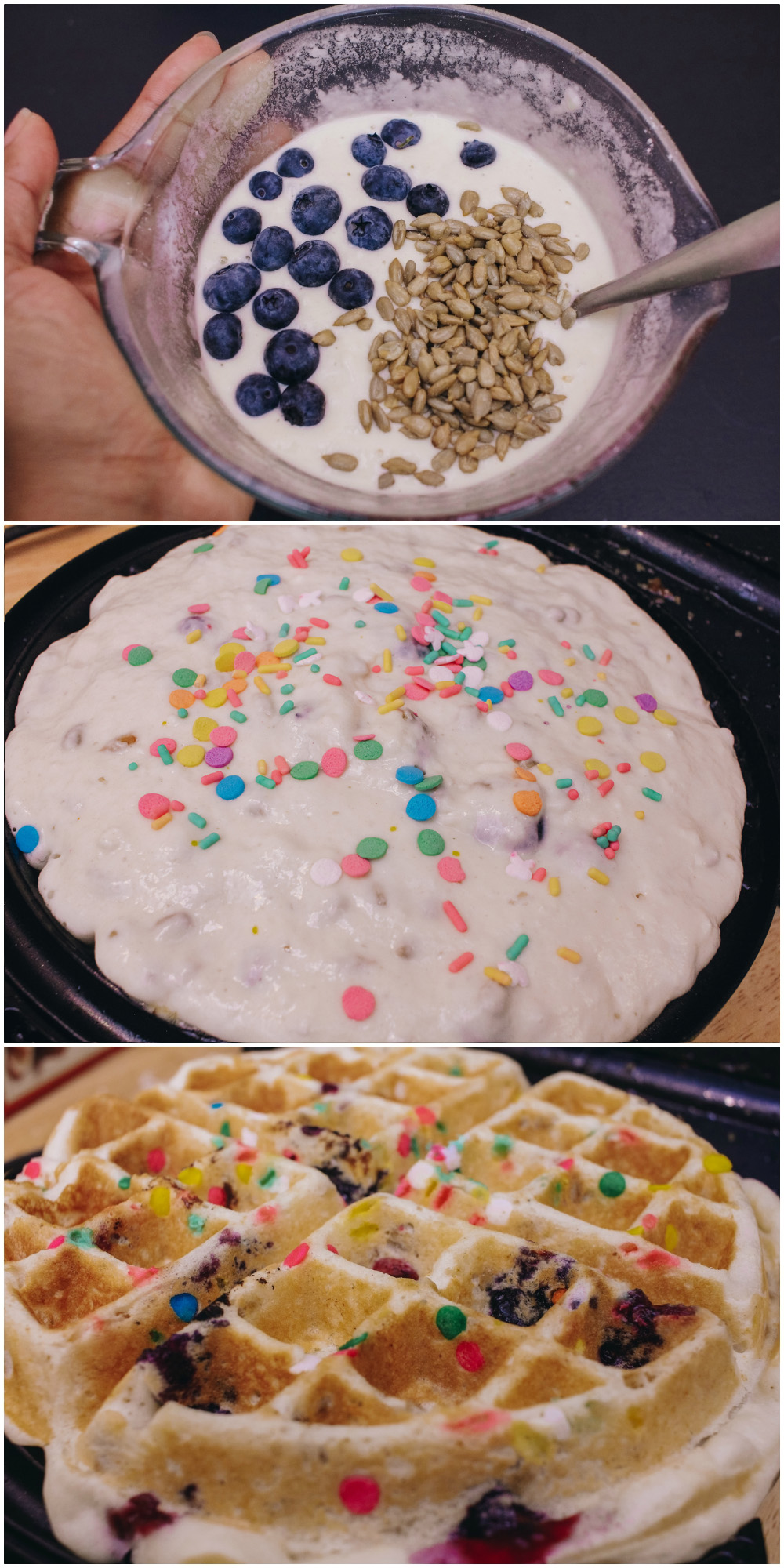 Everything fit perfectly into the Flex Bento containers. The default layout was perfect for this breakfast for lunch meal prep. If I wanted to add more food, I could have slipped their juice boxes into the side pocket of their Classic Lunch Boxes. PackIt's Classic Lunch Boxes are essentially refrigerators on the go. The entire bag goes in your freezer for 12 hours to activate its built-in freezable gel lining. These all-in-one coolers keep meals cool for hours depending on external temps. Lunch boxes surely have come a LONG way! I remember going to school with the plastic square boxes with the canteen. To keep the lunch cold, I'd freeze the canteen and push it up against my sandwich, hahaha! Kids today have it made, I swear!
PackIt has wowed us again. We're thrilled with our Bento Flex and Classic Lunch Boxes and plan to keep them in rotation this school year. Make sure you follow me on Instagram because I'll be hosting a giveaway for some exciting PackIt goodies this week!
Thanks For Pinning!