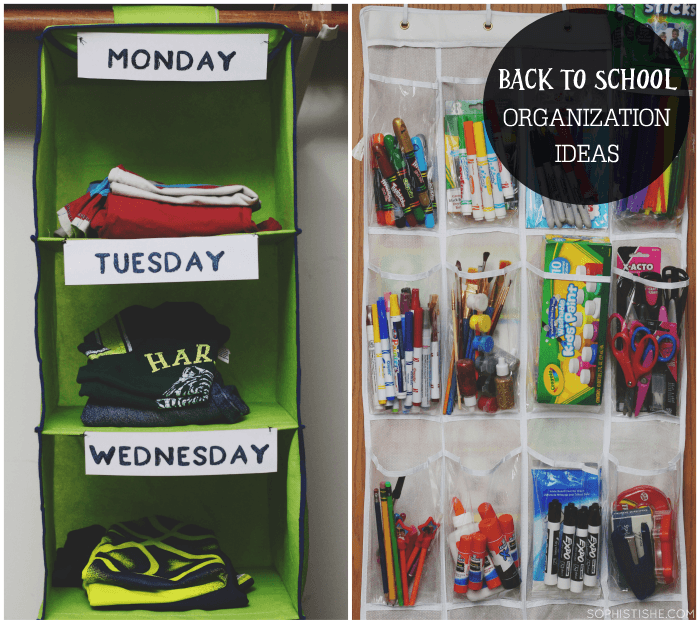 School is in session and if I plan on having an ounce of sanity left, I need to get organized. By the end of the school year, I am determined to have everything organized down to my organization techniques, lol. I function much better when things are in order. When things are disorderly, I turn into a monster and I've been a monster a lot lately. I don't like being a monster. It's easy to envy organization experts, but just imagine how simple their lives are, knowing where EVERYTHING is. Simple. I like simple.
Two of the things that give me great anxiety are a.) having to send my kid to school looking a hot mess and b.) not being able to find supplies needed to complete homework. So it made sense for my next project to eliminate those common stresses during early mornings before school and in the afternoons.
At Walmart, I was able to find some inexpensive items to help me tackle the project and put my mind at ease. I grabbed a Mainstays hanging closet organizer and over-the-door shoe organizer.
The closet organizer was perfect for organizing Jayden's outfits for the week as it had exactly 5 cubby areas for each weekday. The green and blue color scheme matched his room too. I created some labels in Photoshop, printed them out, and ran them through the laminator. I cut them out and ironically enough, I couldn't find my hole puncher to poke holes in the labels. I had to make do with an X-acto knife. I can always redo them. It's the groundwork that matters. I attached the labels by sewing them on the cubbies.
I used the shoe organizer to organize and display our school supplies. I absolutely LOVE over-the-door shoe organizers and use them all over the house. We have one in our laundry room that holds cleaning supplies, one in the upstairs bath that holds toiletries and beauty products, and one in our bedroom that holds… my shoes. If it fits, it sits, hehe.
My next projects include creating a dry erase calendar for the fridge, organizing the pantry, and menu planning for the month. What Back to School organization projects have you tackled?
As a participant in the Walmart Moms Program, I've received compensation for my time and efforts in creating this post. All thoughts and opinions are my own.
MORE BACK TO SCHOOL IDEAS