It's been a long week and Jaxon is due for a thorough bath. He's gotten milk in hard-to-reach rolls on multiple occasions and he's recently had a blowout. A simple spot clean won't due. I grab him and we head to the bathroom where I turn on the radio. Bathtime isn't complete without music. As I prepare Jaxon's tub with warm water and a little body wash, Jayden asks if he can take a bath with baby. Without hesitation I allow him to join his little brother and I fill up the big tub to accommodate him.
Bathtime is a time of relaxation, fun, and bonding. Now that Jayden has a little brother, they both cherish that special time together. Jayden helps bathe baby in what used to be his little tub. He is able to have a glimpse of what life was like when he was a baby only he didn't like bathtime as much as his little brother, hehe.
Although Jaxon is too young to enjoy toys, Jayden shares his with him anyway. "Look at my toys, baby." Those toys usually end up on top of his belly, in an armpit, invading his personal space one way or another.
These are the times that they may not necessarily remember, but my gift of photo journals will be a testimony of their brotherly love.
–
Our bathtime rituals aren't complete without music or body wash and a moisturizing lotion. Baby Magic recently sent us some of their new Soft Cotton Blooms scented hair & body wash and baby lotion. We have been enjoying the scent as its combination of jasmine and sweet lily makes for a fresh, clean, and subtle scent.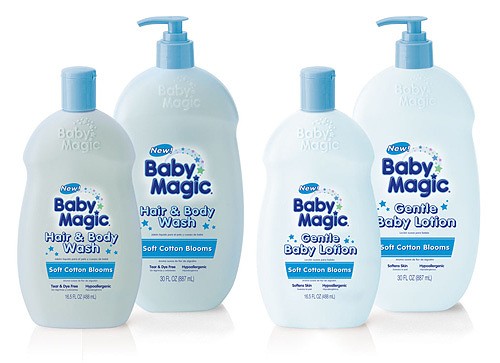 Share Your Favorite Bathtime Memories
Edited to add the winners: Paula, Jacki, Laura
Commenters will be entered to win Baby Magic Soft Cotton Blooms scented hair & body wash and baby lotion! There will be 3 winners!
Extra Entries (if they're your thing):
:: Pin this post on Pinterest
:: Like Sophistishe on Facebook
:: Like Baby Magic on Facebook
:: Like or share this post on Facebook
:: Follow @SheenaTatum on Twitter
:: Follow @Baby_Magic on Twitter
:: Tweet this message:
4/9 – Share your fav bathtime memories for a chance to #win @baby_magic's Soft Cotton Blooms body wash & lotion at #iriemade! http://bit.ly/108eixU #baby #giveaway
Leave an additional comment for each extra entry you complete. Giveaway ends on 4/9/13 at 12:01 AM EST. A winner in the U.S. will be randomly selected, announced on this post, and contacted via email. Check out my Giveaway Rules if you have any questions. Good luck!
I am a Baby Magic Magical Madness Mom. I'm being compensated for my time and efforts invested in the campaign.
To support my blogging efforts and site expenses, I do share relevant affiliate links in my posts. Thank you for your support.