This post is sponsored by Kitchen Fair. Thanks for your continued support of Iriemade and the brands we believe in!
This year, I'm focusing on leading a simpler life. In the kitchen, this means decluttering and getting back to the basics of cooking and focusing on effortless meals that require little prep and ingredients. I bake a lot of chicken because it's an easy and cleaner way of getting dinner on the table. I can quickly prep this dish, pop it in the oven, and take care of another task while it cooks. As a family of five, we buy large packs of chicken. I like to cook it all at once to avoid having to cook much during the week.
With a cabinet full of spices, I have a few established ways that I prepare our baked chicken and I'm working on sharing them all. Today, though I want to share a recipe that my husband loves. He's picky when it comes to chicken. He's not really a fan of fried unless it's doused in honey and he won't eat chicken leftovers unless the chicken retains moisture. So for my sweet and moist (I hesitated thrice typing this!) chicken lovin' husband, this baked Brown Sugar And Garlic Chicken recipe wins.
Can we talk about this gorgeous stainless pan? It's the 12″ Expressions Sauté Pan sent to me by the folks at Kitchen Fair. I love a good dual purpose pan since I'm trying to simplify and eliminate the amount of wares my kitchen. This one's definitely a keeper! It's lightweight, but mighty and has some pretty awesome features. As I grow older, I certainly appreciate these things!
The 12″ Expressions Sauté Pan's multi-ply design features 304 stainless steel interior for durability, aluminum core for even heating and performance, and 430 Magnetic Stainless Steel for Induction Stove compatibility. It's Non-Toxic, PFOA FREE Non-stick coating is 10X more non-stick than conventional brands. It's safe even at high temps and can also go in the dishwasher.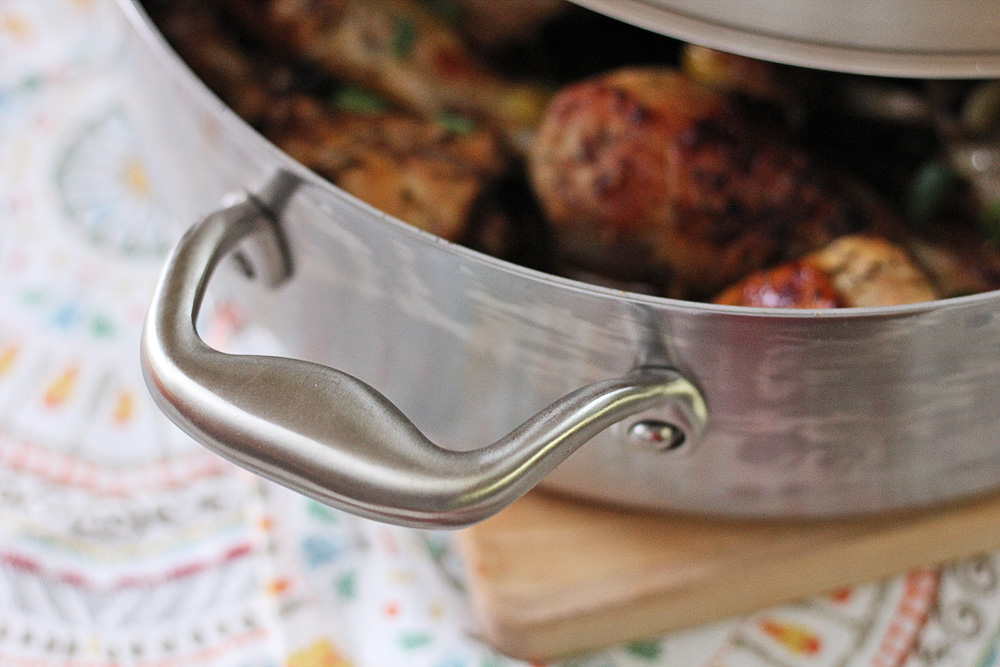 This pan is the best of both worlds. I love the look of stainless, but I cannot do anything but boil in stainless. I feel more at ease about my decision of switching back to non-stick when using Kitchen Fair's American-made cookware. If you're interested in learning more about Kitchen Fair's products, check them out and consider hosting a show at your next brunch or GNO dinner. After all, friends don't let friends cook with busted cookware!
I hope you enjoyed this simple dinner idea. If you decide to make Brown Sugar And Garlic Chicken in your own kitchen, feel free to leave a comment, or tag me on INSTAGRAM or FACEBOOK!
Thanks For Pinning!
Baked Brown Sugar and Garlic Chicken
Ingredients
12 chicken drumsticks
Salt and ground pepper, to taste
4 tbsp unsalted butter or coconut oil, divided (3 tbsp & 1 tbsp)
5 cloves of garlic, minced
1/3 cup brown sugar, packed
2 tbsp honey
1 tbsp Italian dried herb blend (basil, oregano, thyme)
Instructions
Preheat oven to 400 degrees F.
Season chicken with salt and pepper, to your liking.
Melt 3 tablespoons of butter in a large oven-safe pan over medium-high heat. Add chicken and sear both sides until golden brown. Set chicken aside.
Melt 1 tablespoon of butter in the pan. Add minced garlic and cook 1-2 minutes, stirring frequently. Remove from heat.
Stir in brown sugar, honey, and Italian herbs until well combined. Add a few tablespoons of water if needed to help break down the brown sugar. Return chicken to the pan. Turn chicken inside of the pan until evenly coated in brown sugar sauce. Place lid on.
Place the pan of chicken into the oven and let it roast until completely cooked, for 30-40 minutes. For crispier skin, place uncovered pan under the broiler for 5 minutes or less.
Garnish with scallions or parsley if desired. Serve immediately.
Notes
I'm generous with Lawry's garlic salt with parsley in place of salt and a little lemon pepper if I'm feeling adventurous. 🙂

Recipe adapted from Damn Delicious.