This post is in partnership with Eating Italy Tours. Thanks for supporting the brands that support Sophistishe!
As you all may have noticed while perusing my recipes, I've been on a seafood kick lately. I haven't been doing much in the kitchen being pregnant and all, so I thought it was about time to get back into the swing of things. I was commissioned by Eating Italy Tours to share a Tuscan-inspired recipe and what better way to do so than with more seafood? Italian cuisine plus seafood totally rock my world.
I decided to do an easy Seafood Stew that can be served on top of pasta or with a crusty french bread. In Italy, it is called Cacciucco. I'll just stick with "seafood stew". While Cacciucco may sound super fancy, you can whip up a pot using ingredients commonly found in your pantry; just add seafood. You'll definitely want to grab some jumbo shrimp and mussels. Clams and squid, while optional would be yummy too.
Cacciucco: Tuscan Seafood Stew
Ingredients:
3 tbsp extra virgin olive oil
1 large yellow onion, roughly chopped
1 tbsp minced garlic cloves
1 14 oz can diced tomatoes with juice
1 8 oz can tomato sauce
1 cup seafood stock
1 cup water
½ cup brown sugar
2 tsp dried oregano
2 tsp dried basil
1 tsp sea salt
½ tsp red pepper flakes
½ tsp ground black pepper
1 ½ dozen mussels
1 ½ dozen jumbo shrimp
Directions:
In a large dutch oven over low heat, cook onions in olive oil until translucent. This'll take about 15 minutes. Be careful not to let them brown.
Add the garlic, stir, and cook for and additional 2 minutes. Add the diced tomatoes, tomato sauce, seafood stock, water, brown sugar, and spices. Cover and simmer for an hour, stirring occasionally.
Stir in the shellfish and cook for an additional 10 minutes.
Notes
Serve on top of pasta with a crusty french bread.
I hope you enjoyed this simple seafood stew recipe. If you decide to try it in your own kitchen, feel free to leave a comment or tag me on INSTAGRAM or FACEBOOK!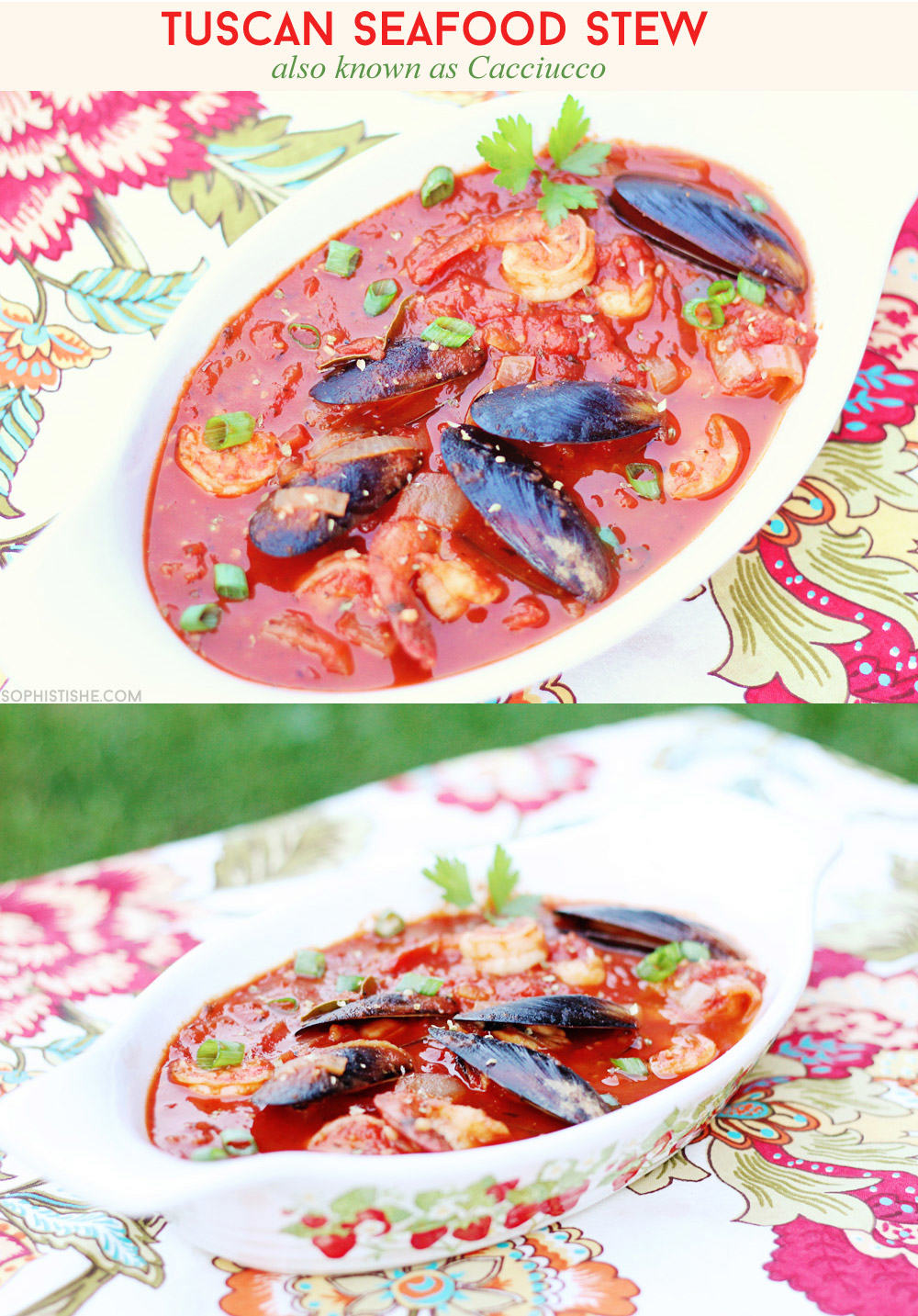 To support my blogging efforts and site expenses, I do share relevant affiliate links in my posts. Thank you for your support.