During my freshman year in college, I lived on spaghetti and waffles. In fact, I earned the nickname of "Waffles" because I had to have one along WITH my spaghetti. Spaghetti is now a goto meal in our household. It's quick and easy and the kids love it. I make a few variations, but today I want to share with you a recipe that is savory and sweet. It's a little different from my usual method, but I love switching things up a bit.
I usually stir my spaghetti noodles in with the sauce… in the same pot. I also usually use ground beef, but I wanted to try something different by using chicken. Sugar is another ingredient that I don't normally use. After making spaghetti and meatballs one day, and noticing that the sauce was a little too tart for my liking, I added some sugar and loved it. So this recipe features brown sugar (yum!) and red wine. Wine makes everything tasty. Of course feel free to put your own spin on it. May I suggest Italian sausage (great for a cookout dish) and mushrooms? Enjoy!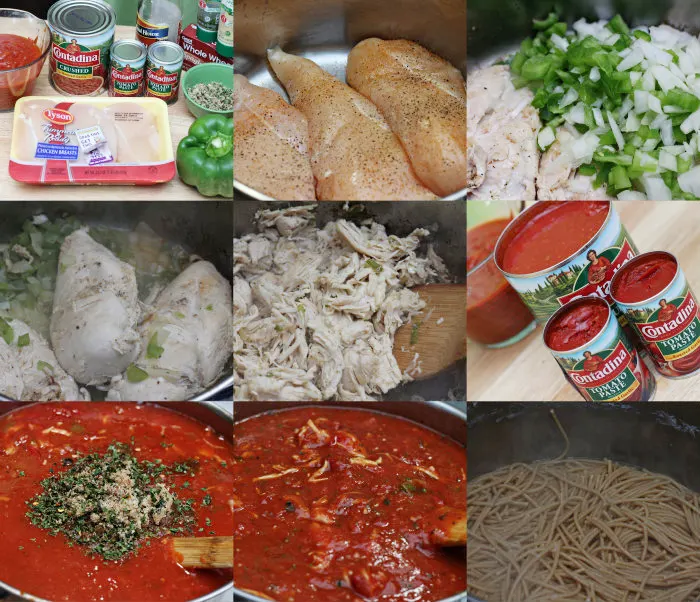 Savory Chicken Spaghetti
Ingredients:
1 lb boneless chicken breast
1 small onion, chopped
1 small bell pepper, chopped
4 garlic cloves, minced
1 (28 ounce) can diced tomatoes
2 (6 ounce) cans tomato paste
2 (15 ounce) cans tomato sauce
6 tsp basil
4 tsp parsley flakes
4 tsp brown sugar
2 tsp salt
½ tsp crushed red pepper flakes
1 tsp ground black pepper
1 cup red wine
1 lb thin spaghetti
Directions:
In large pot, brown chicken breast. Season lightly with salt and pepper.
Add onions and bell peppers. Continue cooking, stirring occasionally until onions and peppers are softened. Shred chicken.
Add garlic, tomatoes, tomato paste, and tomato sauce.
Add basil, parsley, brown sugar, salt, crushed red pepper, and black pepper.
Stir in red wine and bring to a slight boil.
Simmer on low, stirring frequently for at least an hour. Be careful not to let the sauce burn.
Cook spaghetti noodles according to package directions.
Spoon sauce over drained spaghetti and sprinkle with oregano and parmesan cheese.
Notes
Feel free to add more meat and veggies to the sauce. I LOVE Italian sausage and mushrooms!
Every mealtime masterpiece starts with Contadina and ends with a clean plate. While many people enjoy posting photos of their food before they eat, we believe that a clean plate afterwards is the true testament to a delicious meal. And that meal is a labor of love, so share your gratitude with a clean plate celebration on Facebook at https://www.facebook.com/Contadina.
Compensation was provided by Contadina via Glam Media. The opinions expressed herein are those of the author and are not indicative of the opinions or positions of Contadina.