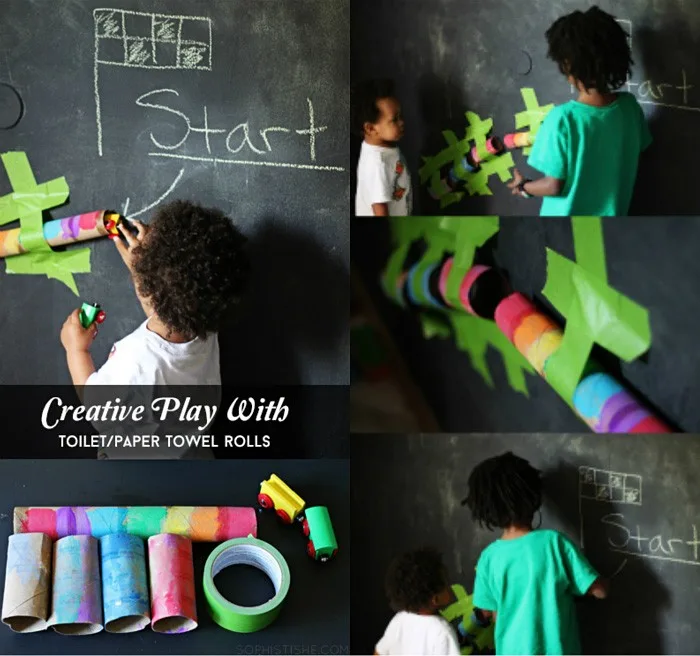 Summer break is in full effect and we've been faced with the challenge of keeping the boys (Jayden in particular) busy. I'm all about using items we already have, so I set aside some toilet paper and paper towel rolls for this fun activity. Both boys get a kick out of playing with paper rolls as-is, so I knew they'd really enjoy creating a run for their cars and bouncy balls. And that… they did. This is a simple, yet exciting activity that will keep the kids entertained for hours. Add additional hours if you have a chalkboard wall. Let's get started shall we?
Materials
Toilet Paper/Paper Towel Rolls
Washable Paint
Painter's Tape
Small Toy Vehicles & Balls
You can grab a 9 pack of Hot Wheels cars for $8.99 at Walmart!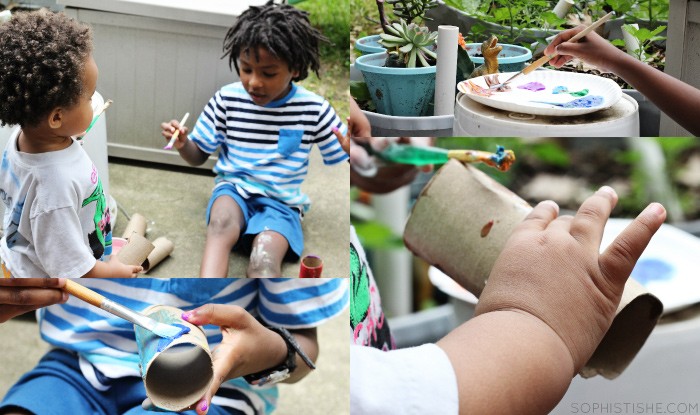 Instructions
Paint and decorate paper rolls to your heart's desire. Feel free to do this part outside to soak in some sun and fresh air. Set the paper rolls aside to let them dry and settle. Attach the paper rolls to a wall, creating a slope for miniature cars and balls to glide through. Enjoy!
Jayden was so excited to bring out the paints and taking them outside was a plus. Jaxon mimicked his brother's painting to the best of his ability. It was fun watching those little dainty fingers go, haha! When it was time to assemble the run, Jayden drew a scene on the chalkboard wall to enhance the fun. Both of the boys had a fantastic time from assembly to play. This is definitely a creative activity you want to add to the summer boredom collection. I got major cool mom points with this one!
How are you keeping the kids busy this summer? Feel free to share any summer boredom busters in the comments below!
As a participant in the Walmart Moms Program, I've received compensation for my time and efforts in creating this post. All thoughts and opinions are my own.
MORE KIDS PROJECTS!