This is a sponsored post written by me on behalf of Cricut. All opinions are 100% mine.
Y'all.
If you missed the announcement on my Instagram, Cricut released a Mug Press machine! As if I needed any more Cricut goodies, but I was pretty excited to get my hands on this baby. I've been wanting a mug press, but they were off-putting to me. I mean, I have a heat press so the industrial look comes with the territory, but I hadn't been sold. Cricut's new Mug Press won me over with its clean, minimal aesthetic. It is what it is and does what it does without a bunch of buttons or custom settings. It's perfect for beginners who are looking to express their creativity in a new way.
Along with receiving this beautiful machine and supplies early, I participated in a virtual training with the Cricut team. We familiarized ourselves with the Mug Press and made some of the designs available in Design Space. I was impressed with how incredibly easy the process was! Seriously. All you have to do is open a premade design in Design Space (or create your own), cut the design onto an infusible ink transfer sheet, wrap it around your mug, pop it in the press and it does the rest! You can also use the Cricut and Infusible Ink Pens & Markers to create line drawings or let your children freehand some artwork they may want to transfer to their very own mug.
Influsible Ink Transfer Sheets
Cricut sells 4.5in x 12in Infusible Ink transfer sheets sized perfectly for mug making. You can also use the standard 12in x 12in sheets which will fit 2 designs on one sheet. Infusible Ink products, when applied as recommended are permanent, seamlessly smooth – and dishwasher & microwave safe.
Ceramic Blank Mugs
Cricut's ceramic mug blanks are available in 12oz and 15oz sizes in sets of 2, 6, and 36. All 15oz mug sets come pre-packaged in a gift box for easy gifting.
I've been making so many mugs and recording clips to upload to Tiktok. Today, I want to share how to make one of the simplest mug projects available on Design Space. It's titled Custom Name Mug.
Supplies Needed
Cricut Mug Press
Cricut Infusible Ink Transfer Sheets
Cricut Air 2 or Cricut Joy Machine
StandardGrip Mat for your machine
Weeding Tools
12oz or 15oz Cricut Mugs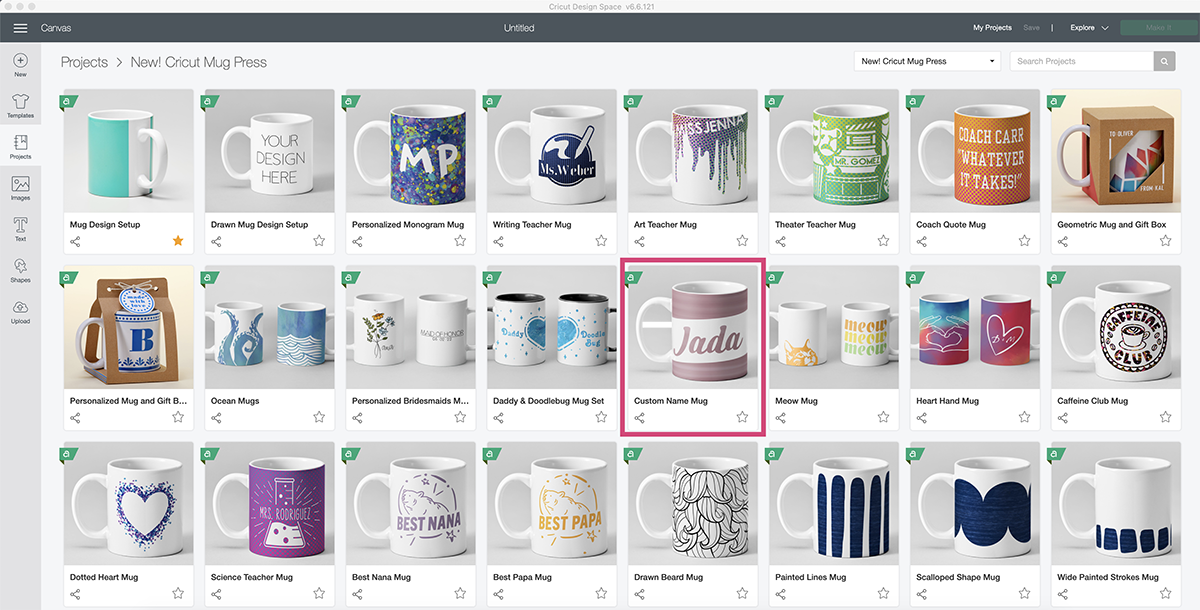 Who doesn't like a good name mug? Although we're in Spring, the kids still very much enjoy their hot cocoa and tea time is their jam. Because Kiki tells all the business around here, I also made my mom a mug before word spread that I was in here making mugs, chile. If you know, you know. In Design Space, I selected the Custom Name Mug design. I edited the template for each person I wanted to make a mug for and sent the cut to my Cricut Explore Air 2. After carefully weeding the cut, it was time for me to wrap the design around my 12oz mug and start the transfer in my pre-heated Mug Press. I placed the mug into the Mug Press, making sure the entire design would be covered by the heat plate. I pushed the lever down and let the Mug Press do the rest. The Mug Press has five LED lights near the power button that track progress. When the Mug Press beeps, the mug is ready to be removed carefully and placed on a heat-resistant surface to cool.
Now that I've gotten the hang of using the Cricut Mug Press, I think I'll share the Infusible Ink Markers with the kids to see what mug designs they come up with! Crafting, gift-giving, and selling just got easier! You get a mug, you get a mug, everyone gets a mug! And YOU can get a Mug Press at shop.cricut.com!
Thanks for Pinning!