This post is sponsored by BabbleBoxx.com on behalf of Alexia.
I have a confession: Sometimes the hubby and I enjoy a "fancy" meal when the kids go to bed.
You know how it goes as parents right? Mom prepares a meal that the kiddos are sure to love. Kids decide not to eat said meal and pick at it instead. Mom pleads, bribes and eventually gives up so PB&J or cereal it is. Dad takes over for bedtime. When all is said and done, mom and dad are pooped and at that point the kids scraps look good… because food ain't cheap. Sound familiar?
But I've had enough of the struggle meals. Dinnertime should be an experience at least for the adults. The hubby and I have been enjoying a little date night meal a few nights a month once the kids are in bed. We deserve it, right? No kids pouting over food choices or with each other, no tiny little hands in our plates, no fuss. Just good food and good company. It's like back when we were dating, if only for the time it takes to finish our meal.
So what do we eat? Sometimes we smuggle in takeout or I quickly whip something up like hubby's favorite; steak and a quick veggie. We've been loving vegetable sides from Alexia Foods. We like pairing Pan-Seared Steaks with Alexia White Cheddar Riced Cauliflower with Black Pepper or Alexia Butternut Squash Risotto. Yup, we fancy. But don't be fooled by the fancy, it takes 30 minutes or less to get all this delicious goodness on the table.
You would think I would tell you all about the juicy steak but you'll just have to continue scrolling for that. Lets talk about these amazing premium side dishes from Alexia. The White Cheddar Riced Cauliflower with Black Pepper is divine. Rice who? This cauliflower is so flavorful and light, you will definitely forget about rice. And Butternut Squash Risotto is perfection. My hubs is a meat and potatoes kind of guy. He asked for another helping of these two complete side dishes. If I can be honest… I can eat an entire bag as a meal. I may have done it once or twice.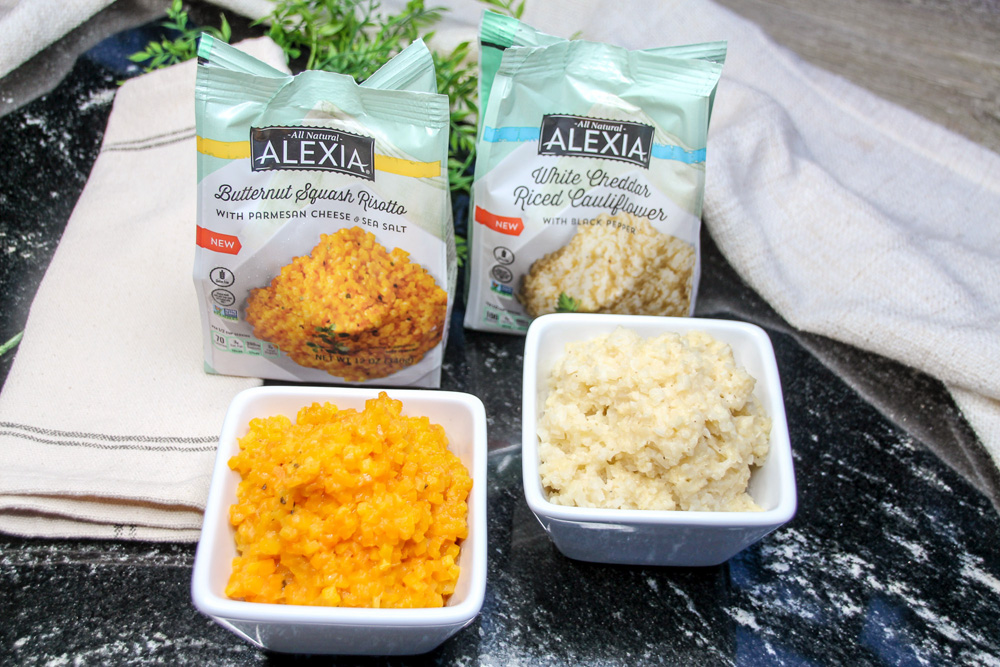 Being the crunchy mama I am, I love that these starch alternatives are Non-GMO Project Verified, gluten-free and contain organic dairy ingredients. And the not so crunchy side of me loves that they cook in less than 10 minutes without me having to add additional ingredients. I'm all about date night fancy is a flash. I find the Alexia premium vegetables sides at my local Meijer. You can find them at Giant Eagle, Kroger and other fine grocers too.
Visit alexiafoods.com for more dinner ideas for date night at home when the kids go to bed. Speaking of date night fancy, maybe on a kid-free weekend try pulling out the fancy linens and candles. No date night is complete without a delicious meal presented with love. You deserve it.
Pan-Seared Steak
Ingredients:
1 medium onion, medallion sliced
2 tablespoons olive oil, divided
Kosher salt and black pepper
1½ pounds sirloin steak (about 1 inch thick)
Fresh Swiss chard for garnish
Directions:
Heat 1 tablespoon olive oil in a large skillet over medium-high heat. Season steak with ½ teaspoon salt and pepper and cook to desired doneness. Let sit before slicing.
In the same skillet over medium-high heat, add onions, drizzle with 1 tablespoon oil and sprinkle with salt and ground pepper while. Cook onions until caramelized. Set aside in a bowl.
Garnish steak with fresh Swiss chard and caramelized onions.
Serve with Alexia White Cheddar Riced Cauliflower and Butternut Squash Risotto.
Pin this post on pinterest!