Previous Disney Post: Preschooling Through Walt Disney World
Two things that you might need while vacationing at Disney with littles are autograph books and a stroller sign if your kiddos are stroller bound. In preparation for our trip to Disney, I created a stroller sign for the double stroller that we rented in Orlando. To prevent our stroller from being lost in the stroller parking lots, I created a sign that would help us easily identify it. Little did I know that we'd receive a bright red stroller that stood out on its own and matched our sign perfectly.
To make the boys' Disney experience even more special, I created personalized character autograph books for them to match the stroller sign. It's been said that characters absolutely love to sign custom books, so I had to do a little something. Today, I want to share how I created our Disney stroller sign and autograph books and how you can too!
Materials
8.5 x 11 Card Stock Paper
Printer
Laminator & pouches
Scissors
3 Hole Punch
1/4″ Ribbon
Hot Glue Gun
5.5 x 8.5 Sketch Pad
Retractable Sharpie
I started by designing a simple Mickey Mouse-inspired template, layering a large silhouette of Mickey's head over the classic red and yellow colors. I added our name inside of Mickey's head using the Minnie font in white. For the autograph book cover, I switched things up a bit. I reduced the size of the Mickey silhouette and wrote the boys' names on the yellow strip part. After saving my files, I printed them on card stock paper, laminated, then cut them out.
For the stroller sign, I cut around the image, but I recommend leaving it as-is to avoid the seal breaking. Using a 3 hole punch, I punched ribbon holes at the top of the sign. For the autograph book covers, I carefully hot glued them on to the sketch pad covers and slipped a retractable Sharpie in the coil.
The Disney characters loved the boys' books, though they are trained to love them all, haha! We had so many people read our stroller sign aloud and give us compliments. Jayden was proud to let it be known that Jaxon and Akilah were the "tots" and that we were "The Tatum Family".
Below are the files and instructions on how to personalize them. I hope you have as much fun with them as we did!
Download The Stroller Sign & Autograph Book Cover
I designed these files in Photoshop and used the Minnie font. If you don't have Photoshop, you can use PicMonkey or Canva. I found that the Luckiest Guy font works wonderfully for this project.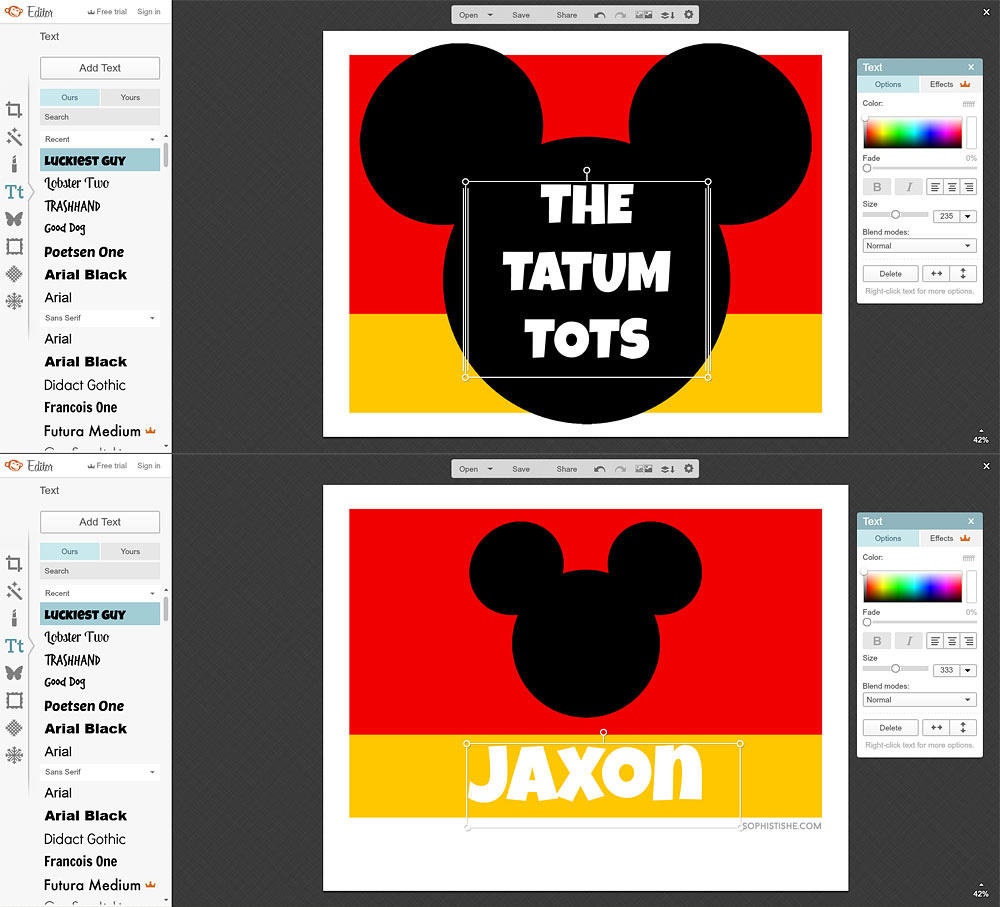 Stroller Sign Notes: Our stroller sign got a little banged up during travel. I slipped it in our carry-on diaper bag in a hurry. I suggest not cutting the sign as I did after laminating it to avoid it from becoming "unsealed". Though I cut the boys' book covers and they were fine. So maybe my advice is to keep the sign safe during travel, haha. It's likely to undergo a little wear and tear with collapsing and unfolding the stroller, but it'll still serve its purpose and garner compliments as ours did!
Autograph Book Notes: Our sketchbooks were a bit thick so I recommend something with fewer pages. I found this sketchbook which has 50 pages and will fit the dimensions of the autograph book cover file (9×6).
Was this post helpful? Please consider leaving a tip!
More Disney Reads
Starting the New Year with Disney
Preschooling Through Walt Disney World
The Tatums Go To Disney: A Photo Book Made Just For Us
Pin This Post On Pinterest!