Hello Products has provided me to with product to facilitate this review, along with compensation for my time and effort in creating this content. As always, all opinions are my own.
For those toothpaste boxes that are just too cute to throw away, have I got the perfect craft for you; Mini Pinatas! This is a craft you can do with the kiddos on a rainy day. We've had quite a bit of those lately and I am here for them. There's nothing like a little rain to make you slow down and relax. What better way to do so than crafting with the littles?
Hello toothpaste boxes are the star in this craft. I had been saving them up because I couldn't bring myself to throw them away. They are so well done… thoughtfully designed, inside and out. Printed with soy inks on 100% recyclable paperboard, not only are Hello's toothpaste boxes easy on the eyes but the environment too.
Materials
Empty toothpaste boxes
Crepe paper
Confetti
Yarn
Small treats
Liquid school glue – (a glue stick may be too rough on thin crepe paper)
Hot glue gun
Tape
Scissors
Instructions
First, cut several strips of crepe paper long enough to wrap around your box. Depending on the thickness of your crepe paper, you maybe need to glue one an initial layer of paper as a "primer". Plan your layout and cut slits throughout your crepe paper for a fringe effect.
Next, poke a small hole in the top of the box flap to thread a loop of yarn. Feed the loop of yarn through the hole. The knotted portion of yarn should remain on the inside of the box. Use a few dabs of hot glue to secure the yarn in place.
On the opposite side of the box, cut off the flaps as this will act as the bottom on the pinata. Stuff the inside of the box with confetti and treats. Secure the contents inside by taping a strip of crepe paper across the bottom of the box. This will prevent the contents from spilling out, but will make it easy for them to fall out when it's time to swing at the pinata.
Begin gluing crepe paper to the box according to your planned layout. Start from the bottom of the box and work your way up. If your crepe paper is on the thin side, you may need to cover the box with a layer before gluing on your fringed layer of paper. It's also best to use liquid school glue or hot glue vs a glue stick if you have thin paper. About halfway into this project, I learned my lesson!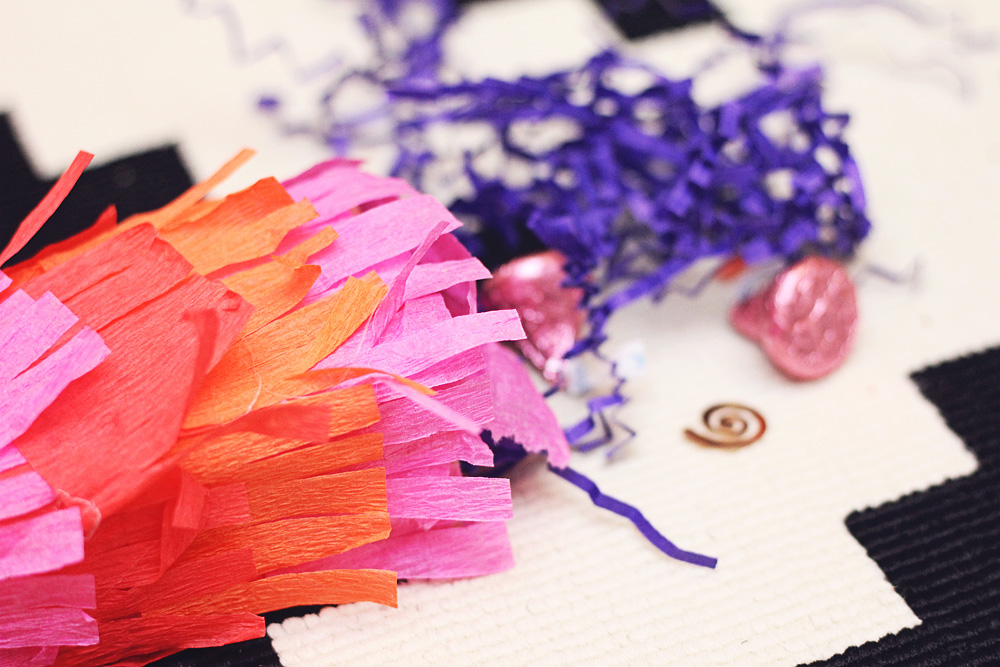 After assembling your mini pinatas, it's time to swing and strike for treats! After consuming said treats, it's important to thoroughly brush! From blue raspberry for the kiddos to mojito mint for the grown kiddos, Hello's got you covered with their deliciously natural toothpastes. Give them a try – you'll love 'em (store locator) and make your own mini pinatas.
Don't forget to share your projects with me by tagging me on Instagram, Facebook, or Twitter!
CHECKLIST
More fun with toothpaste: Check out our Healthy Smile Printable Activity Book.
Pin this post to Pinterest.
Choose friendly with Hello.
Do you recycle your toothpaste boxes? How do you use them?