Strawberry Banana Mini Waffles with Yogurt Dip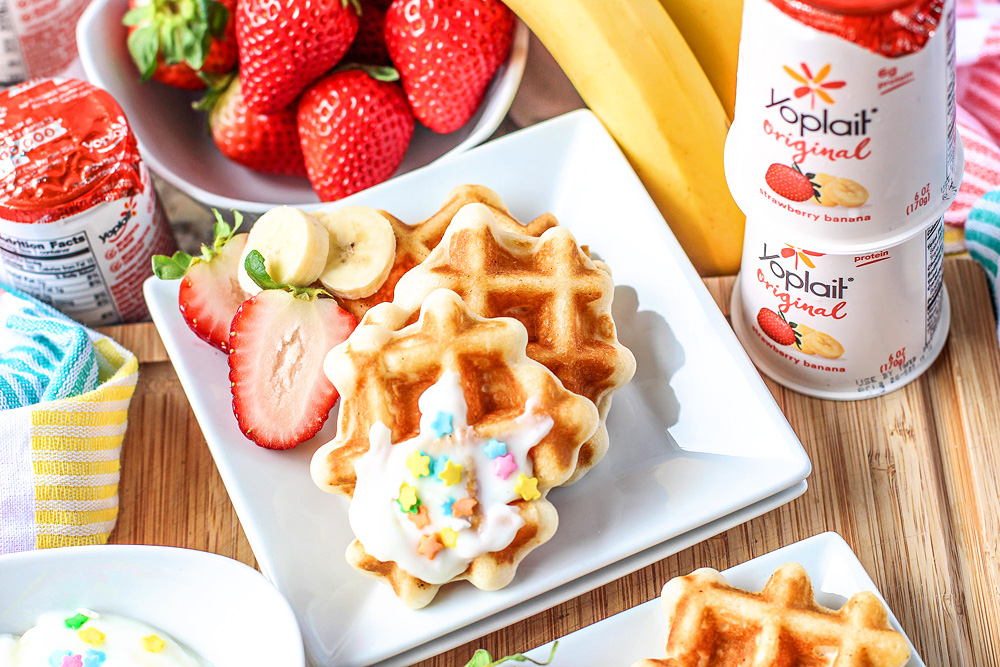 Strawberry Banana Yoplait Original Yogurt
Fresh Strawberries, sliced
Fresh Banana, sliced
2 cups waffle or pancake mix
1 cup low-fat milk
3-4 tbsps melted unsalted butter
Sprinkles
Preheat waffle iron.
Slice fresh strawberries and bananas, set aside.
In a large bowl add waffle/pancake mix and low-fat or 2% milk, mix until just combined.
When the waffle iron is hot brush waffle compartments with melted butter.
Spoon 2-3 tablespoons of waffle/pancake batter onto the center of each waffle compartment. Close the lid and cook until mini-waffles are golden brown.
Remove waffles onto a plate.
Spoon a tablespoon of Yoplait Strawberry Banana yogurt onto each mini-waffle and shake on the candy sprinkles.
Serve with slices of fresh strawberry and bananas.
Recipe by
Iriemade
at https://iriemade.com/strawberry-banana-mini-waffles-yogurt-dip/