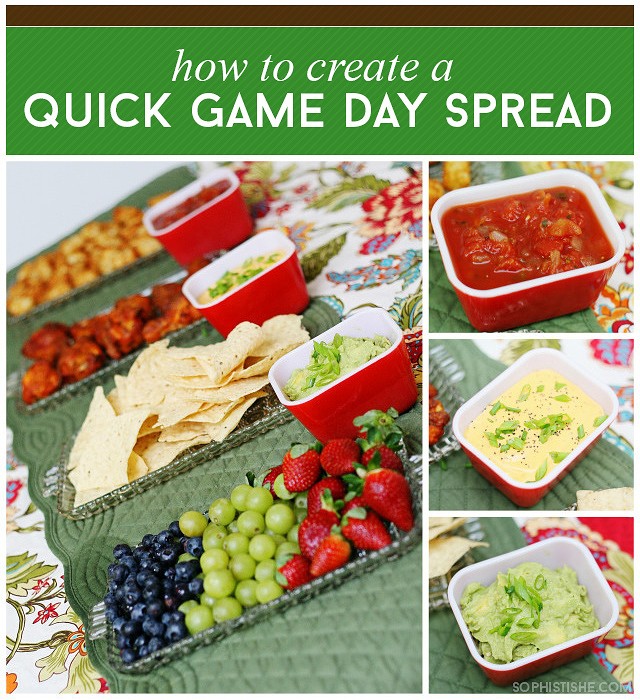 It seems like just yesterday when the football season started and here we are during the final few weeks with college ending and the NFL entering the playoffs. We have less than a month before the Super Bowl so I'd say now is the perfect time to host a few game time gatherings to celebrate, wrap up the season, and add a little oomph to a slow winter.
Now preparing a spread for a game time gathering doesn't have to be complicated at all. Walmart offers tons of easy to prepare snacks and appetizers that are tasty and affordable. For the die hard fans, Walmart also offers selection of NFL apparel items. When I think about game time snacks… a variety of wings, potatoes, and chips and dip come to mind.
So on my latest grocery trip, I grabbed a few things that fit that criteria to share with you: hot wings, tater tots, tortilla chips, salsa, guacamole, and nacho cheese. In addition, I grabbed some strawberries, grapes, and blueberries. A game time spread isn't complete without something sweet and the fruit makes the spread a little healthier.
Presentation is also super simple. I broke out the vintage hors d'oeuvre plates and pyrex bowls and arranged my game time goodies in the dishes. Of course the hot wings and taters had to be warmed up, but took all of 20 minutes.
Now that you see the simplicity in preparing a game time spread, will you be planning a game time gathering? I'd love to see your ideas!
I am a member of the Walmart Moms program. Walmart is compensating me for sharing these ideas. My participation is voluntary and all words and opinions are always my own. Read my full disclosure policy here.
More Football Inspiration!