This is a sponsored post written by me on behalf of At Home. All opinions are 100% mine.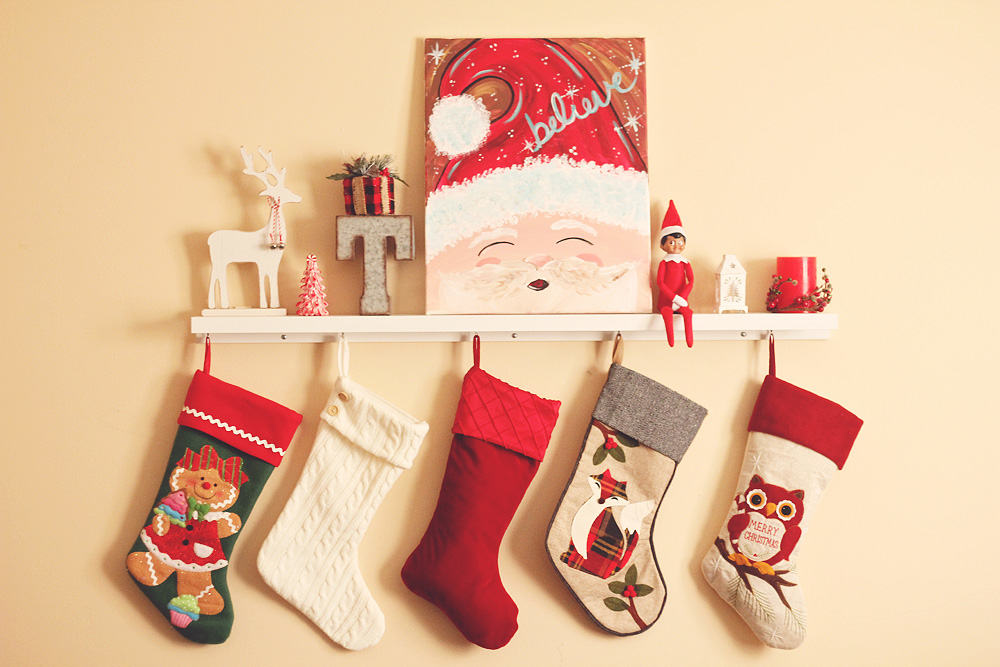 It's time for the last installment of Holiday At Home, a three-part holiday decorating series with At Home! Today, I want to share how I made my mantel wishes come true this holiday season!
There's nothing that says home like a well decorated mantel adorned with seasonal knick-knacks and mementos. Being able to decorate a mantel is something I've wanted for quite some time now, but a fireplace is something that all of our rentals have lacked. I'm all about doing the best with what we have, so I decided to make a faux mantel out of a simple photo ledge and 3M wire hooks. I pinned this idea last year and made a promise to do it this year. By mounting the photo ledge upside down and attaching the 3M hooks underneath, I had an instant mantel shelf and a way to better display our stockings.
We usually hang our stockings on the stair railing which hasn't been the best solution. With the boys running up and down the stairs and peeking inside every day, I knew I had to get those stockings out of their reach this year. Now, I can finally fill them up much earlier knowing that they won't be ransacked. While shopping At Home, I picked up some new stockings for our faux mantel shelf. There were three in particular that I absolutely couldn't pass up; a gingerbread girl for baby Akilah, a Cableknit for Juicy and plaid fox for Jayden.
For the mantel shelf, I also grabbed a flameless LED candle and remember that little lantern ornament from my kitchen post? It looks great on top of the shelf. By pairing At Home Christmas Decor items with our pre-existing decor, we now have a fun holiday display just for us.
Bonus.
I had some extra lights from that same kitchen post, so I decided to spruce up our Christmas wreath. I had a set of itty bitty lights strung around the wreath and they were difficult to see from afar. The extra set of multicolored battery powered LED lights did the trick. Now, our wreath really pops at night.
I hope you enjoyed this holiday decorating series and that it helps make your season bright as you deck your halls! Happy Holidays!
Holiday At Home
Decorating The Kitchen
Decorating The Console
__
At Home is the destination for holiday merchandise at everyday low prices. At Home offers a complete holiday solution for every home, including an unmatched assortment of indoor and outdoor décor items for Christmas and a one-acre Tree for Me lot of 101 unique artificial Christmas Trees. Stop by your local At Home store, today, for all your holiday home decorating needs!