In my last post for UncommonGoods, I promised a closer look at the AquaFarm (get it here). Well, we finally have it all set up, so let's take a closer look shall we?
The AquaFarm is a sustainable ecosystem that uses aquaponics to grow plants and provide a clean environment for fish. The plants thrive on fish waste and the plants help keep the water clean. Score! The AquaFarm includes all of the essentials needed for a revolutionary countertop garden including organic seeds, a chemical free dechlorinator, pump, gravel, a sampling packet of fish food, and a 99 cent betta fish coupon.
Since the nearest Petco is 30 minutes away, we picked up a betta as well as a live plant at a small shop in town. Setup was a breeze, but we had to provide some of our own supplies. The kit didn't come with enough gravel to line the bottom of the tank. I found that weird to say the least. Luckily, we had some blue gravel on hand. We also dug up a decorative star to display in the tank. The pump that came with the AquaFarm is a temporary pump and turning it off at night is recommended. We had another pump on hand, so we didn't bother with the temp.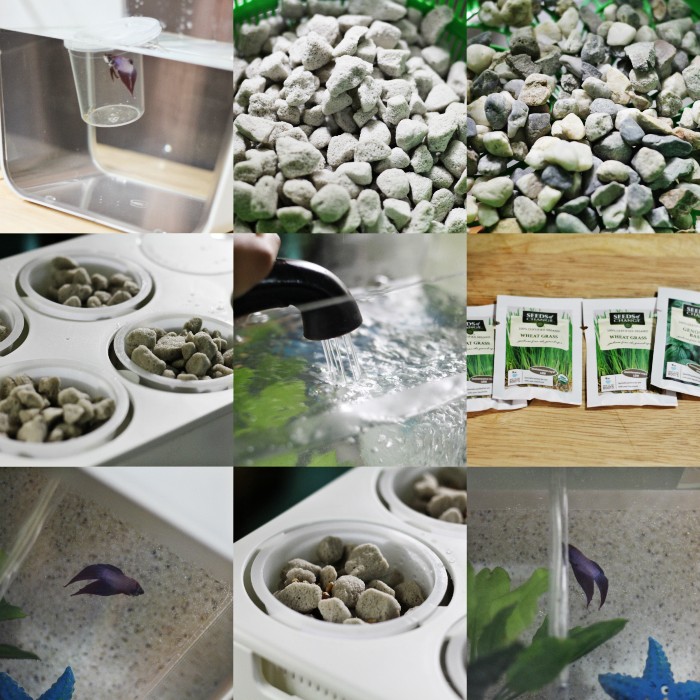 Our betta seems to be flourishing in his new home. Right now, he's on our kitchen counter. I'd like to move him to the office where the wheat grass, basil, and water plant will get plenty of sunlight. We're purchasing a small aquarium heater first, as it can get nippy in the office. The AquaFarm would make a pretty nifty gift this holiday season. Just be prepared to supplement a few supplies. Consider purchasing from UncommonGoods as they are just as charitable as they are quirky.
WIN A $50 GIFT CERTIFICATE TO UNCOMMONGOODS!
a Rafflecopter giveaway

Giveaway ends December 17, 2013 at 12AM CST. Products and prize featured in this post were provided by the folks at UncommonGoods. Just thought you should know.
To support my blogging efforts and site expenses, I do share relevant affiliate links in my posts. Thank you for your support.