Dole Whip seems to be all the rave. It's widely known to be served all over Disney Parks, but last summer, I discovered a Dole stand at the Noah's Ark Waterpark in Wisconsin Dells. Unfortunately, our moolah was locked away across the park so I missed my chance! Little did I know that we'd be on our way to Disney months and months later. On last month's Disney World adventure, we set out to find this incredible dessert that everyone's been buzzing about. It was at Tamu Tamu in the Animal Kingdom where we quenched our palettes on the tropical whipped dessert and it was SO refreshing.
I'm all about trying new things and bringing them back home to extend our experiences a while longer. Dole Whip seemed simple enough, so I whipped up (See what I did there?) an inspired dessert for us all to enjoy and relive our Disney memories together. This 3-ingredient Dole Whip inspired dessert is simplistic and fresh. All you need are some frozen fresh pineapple cubes, a preferably frozen banana, your favorite creamy dairy-free milk, and a blender. In this recipe, I used Silk Unsweetened Almondmilk. Silk's Almondmilks are a favorite of mine. I love the richness of Almondmilk. It's almost like a treat for me. The extra calcium is a plus!
Homemade Dole Whip Dessert (Dairy-Free)
Ingredients:
1 banana, frozen
2 cups fresh pineapple cubes, frozen
½ cup Silk Unsweetened Almondmilk
Directions:
Place the banana, pineapple, and ½ cup almond milk into a blender. Secure the lid and begin blending at a low speed, gradually increasing the speed to high. If your blender is finicky, you may need to add a few more drops of milk to get things moving.
Once the whip dessert is completely blended, pour into your favorite serving cup. If the dessert is too runny for your liking, you can place it in the freezer to harden. Optional: Top with shredded coconut before serving.
Notes
For that tart, juicy pineapple punch, let the pineapple ripen before freezing.
The Orlando heat had our Dole Whips melting with the quickness. I like to think I've recreated that melting effect with this inspired dessert. Tip: Freeze your banana as well to get more of an icy consistency or you can just, you know, slurp down your chilled pineapple soup. Enjoy!
If you decide to try this Dole Whip inspired dessert, feel free to leave a comment or tag me on INSTAGRAM or FACEBOOK using the hashtag #Sophistishe!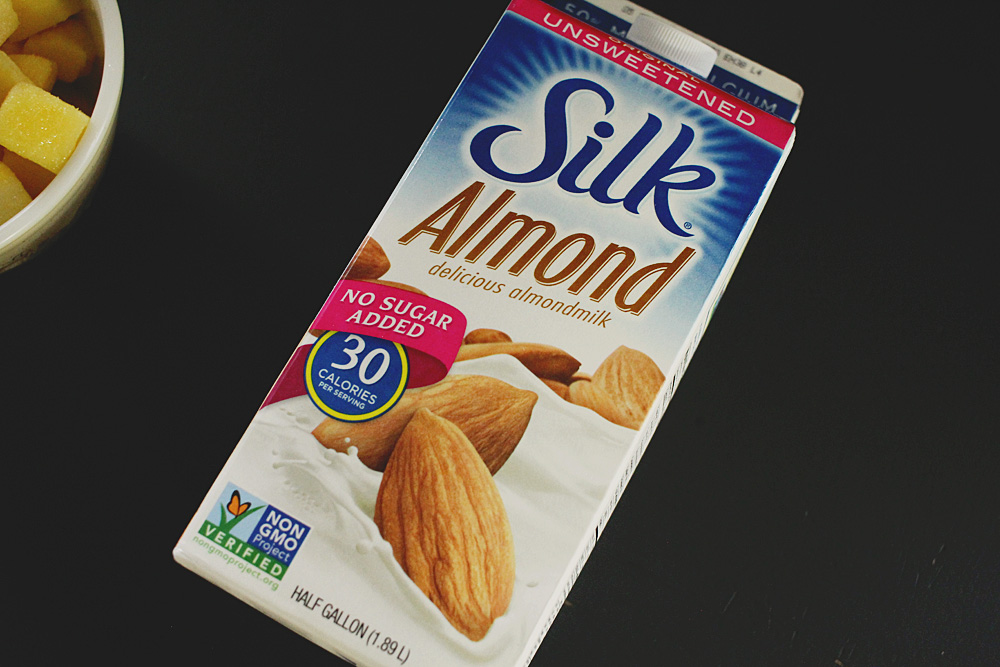 This is a sponsored conversation written by me on behalf of Silk. The opinions and text are all mine.