This is a sponsored conversation written by me on behalf of Chuck E. Cheese's. The opinions and text are all mine.
Our Thanksgiving Turkey is 7 years old! Due on Thanksgiving, Jaxon came 2 weeks early but I still refer to him as my Thanksgiving Turkey. We celebrated his birthday late last month at our local Chuck E. Cheese's per his request. He had been sick and seemed to be doing better on the day of his party. By the time we arrived, he wasn't feeling his best, but he pushed through! The whole house caught it shortly after and we're just now getting over it. So here I am today sharing some moments from his 7th birthday party courtesy of Chuck E. Cheese's.
Our kids' birthday parties are always intimate, but I'm used to planning party themes to make them special. I had to let that go for a while. Chuck E. Cheese's takes the headache out of all things party planning, giving me a break. I reserved Jaxon's party on the Chuck E. Cheese's website. I selected the Mega Super Star Birthday Package, which includes:
ALL YOU CAN PLAY GAMES for the duration of your reserved party or 60 Tokens for locations without Play Pass
9 Helium Balloons
1000 Bonus Tickets for Birthday Star
Exclusive Birthday Star Play Band
Collectible cup with FREE refills for the life of the cup per child
Goody Bag per child
Coil wristband per child at locations with Play Pass
2 slices of a 1-topping pizza.
Dippin' Dots ice cream per child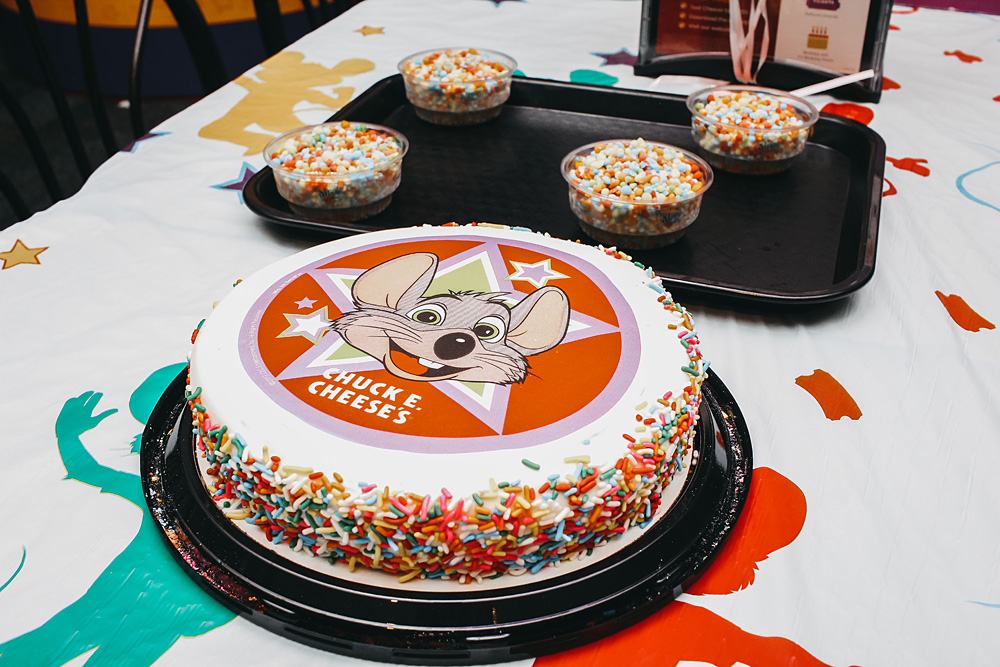 I added a Sampler and Boneless Wings Platter, 8″ Vanilla cake, and an It's My Party Medallion. I'm glad I got the medallion to show who the birthday boy was. Before the party, I decided to make the kids matching Birthday Squad shirts using a file I bought from Etsy. What I didn't think to do is look for a file that said "Birthday Boy" which the shop had available. Oh well! Medallion to the rescue!
All we had to do was show up for our party and the staff at Chuck E. Cheese's took care of the rest. Our hosts did a wonderful job making sure the kids had a great time and made the most of our party package. They were most excited about playing games and racking up on tickets. Getting them to sit down and enjoy their food was a challenge. They wanted to break free and play, play, play. Needless to say, we had plenty of leftovers.
Here are some photos of the kids in action doing what Chuck E. Cheese's is all about… being kids!
The kids really enjoyed themselves and Jaxon got the party he wanted. He and Kiki are still talking about it and are plotting to return, LOL. Special thanks to the manager at Chuck E. Cheese's Merrillville, IN for being so attentive and holding it down!