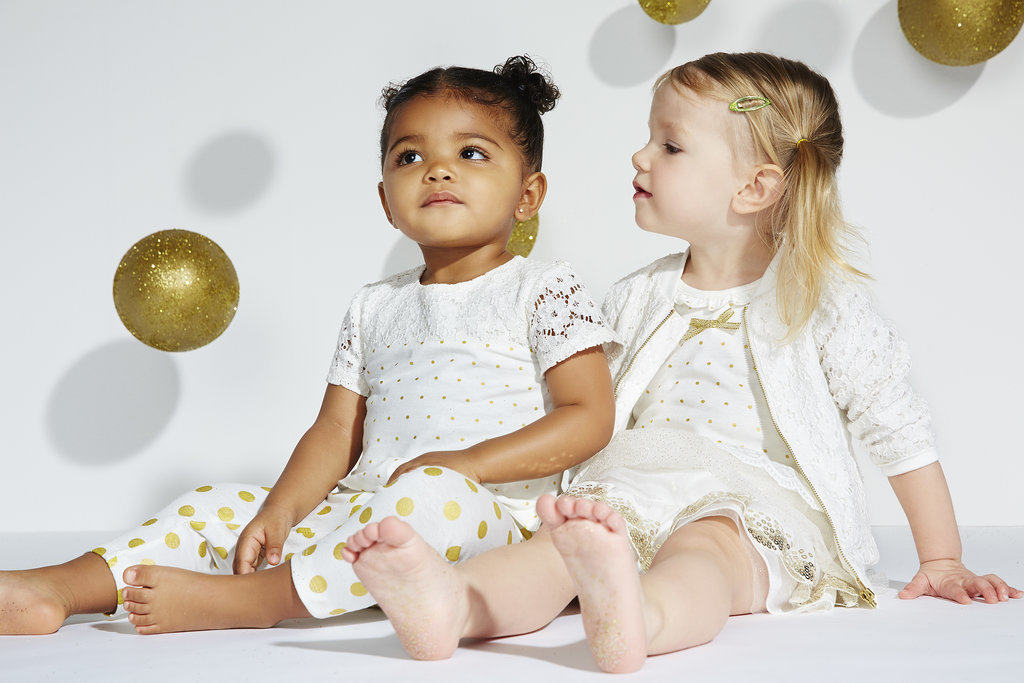 Although I have boys, I simply have to share!
So Kourtney, Kim and Khloéé Kardashian, in collaboration with Jupi Corp, will be launching Kardashian Kids clothing, exclusively available at select Babies"R"Us stores across the U.S. and online. Beginning March 15, 2014, designs for baby girls up to 24 months will be available for purchase.
Designed with fashionable parents in mind, the Kardashian Kids collection features motifs including butterflies, shimmering stars and a uniquely sweet take on the Kardashian's signature animal print. The line ranges from newborn onesies, snuggly caps and cozy blankets, to stylish and functional two-piece sets, jackets and dresses.
The sweet and sophisticated pieces include delicate details of layered lace, pearl-embossed buttons, georgette appliques and leatherette. Pastels, touches of gold, calming neutrals and pops of color are all a part of the collection's color palette. Adored items include a playful white cotton onesie with girly tulle ruffles, soft gold polka-dot leggings and darling butterfly-printed bloomer shorts. From newborn must-haves to luxurious special occasion pieces, the line offers gentle fabrics in delightful and tender designs. What's not to love about this line?
"Since becoming a mom, I've been so inspired to create Kardashian Kids with perfect prints, heavenly fabrics for a baby's skin and to bring fashion to the baby world that is affordable,"said Kourtney, mother of Mason and Penelope.
"Our grandmother opened a children's fashion store, and from an early age I adored baby fashion. Later when Penelope was born, my sisters and I had so many ideas for how we wanted to dress her, but didn't always find what we were envisioning. Now, as a mom, I cherish the time my baby and I spend together getting her dressed. The items in this collection are exactly what I have imagined for her," said Kim, mother of North.
"With our ever-expanding family and our wide circle of friends having children, designing a baby collection was the next natural progression for my sisters and me. We hope the charming patterns and the uniquely stylish items are gifts new parents will be delighted to open," said Khloéé.
Kardashian Kids items will retail from $15 to $30 and will be available at all Babies"R"Us stores and online at Babiesrus.com/KKids. Stay up-to-date on Kardashian Kids news by following on Facebook (facebook.com/kardashiankids), Instagram (@KardashianKids) and Twitter (@KKidsOfficial).