Kids meals. What comes to mind when you hear that phrase? For me; chicken nuggets, and an assortment of other finger foods. I have adventurous taste buds and I would like the boys to follow suit. Jayden is my picky eater. He approaches new foods with curiosity and apprehension, but the Juicy one? He'll eat anything… except cheese crackers. Strange huh?
I'm trying to incorporate more fish into our diets (omega-3's – hello!) and one of our favorite quick and inexpensive seafood dishes is salmon croquettes. When Alaska seafood asked me to share a kid-friendly seafood meal, I couldn't wait to share my croquette recipe and how you can spruce them up for the littles. In this Smoked Salmon Croquette Slider recipe, I share how to add a kick to salmon with smoked sea salt (so good!) and top with a sweet combo of veggies kids'll enjoy. Add some tater tots and mandarin oranges on the side and dinner is served!
Smoked Salmon Croquette Sliders
Ingredients:
1 14¾oz can Alaskan pink salmon
½ medium onion, diced
2 eggs, beaten
½ tsp garlic powder
½ tsp ground black pepper
½ smoked sea salt
1tbsp cornstarch
4 tbsp vegetable oil
Toppings
Shredded lettuce
Sweet corn or mango salsas
Green onions, chopped
Directions:
Drain salmon and place in a mixing bowl. Remove any bones and flake salmon using a fork. In a small bowl, beat the eggs and our into the salmon. Add the diced onion, seasonings, and cornstarch to the salmon mixture. Mix thoroughly.
Shape salmon into small patties. Heat the oil In a large skillet over medium heat. Fry each patty for on each side until crispy and golden brown.
Serve on slider buns topped with sweet corn salsa, shredded lettuce, and green onions.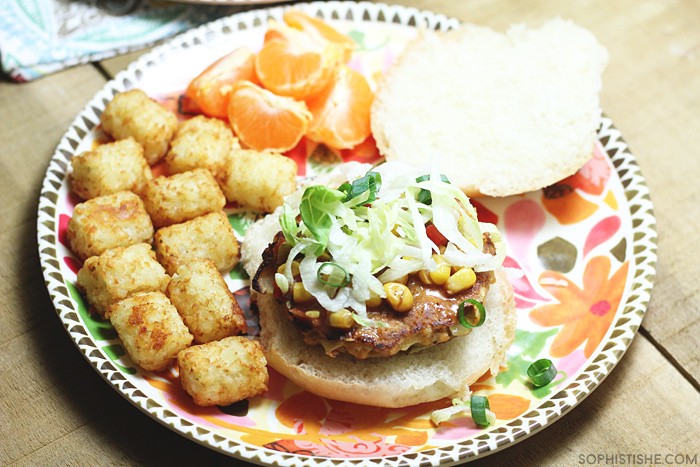 Did you know that Alaska supplies five species of salmon, several varieties of whitefish, and numerous shellfish species? Best of all the nutrient-rich fish are available fresh, frozen and canned year round.
Do your kiddos have a favorite seafood dish? Let us know in the comments below!
I was selected for this opportunity as a member of Clever Girls and the content and opinions expressed here are all my own.