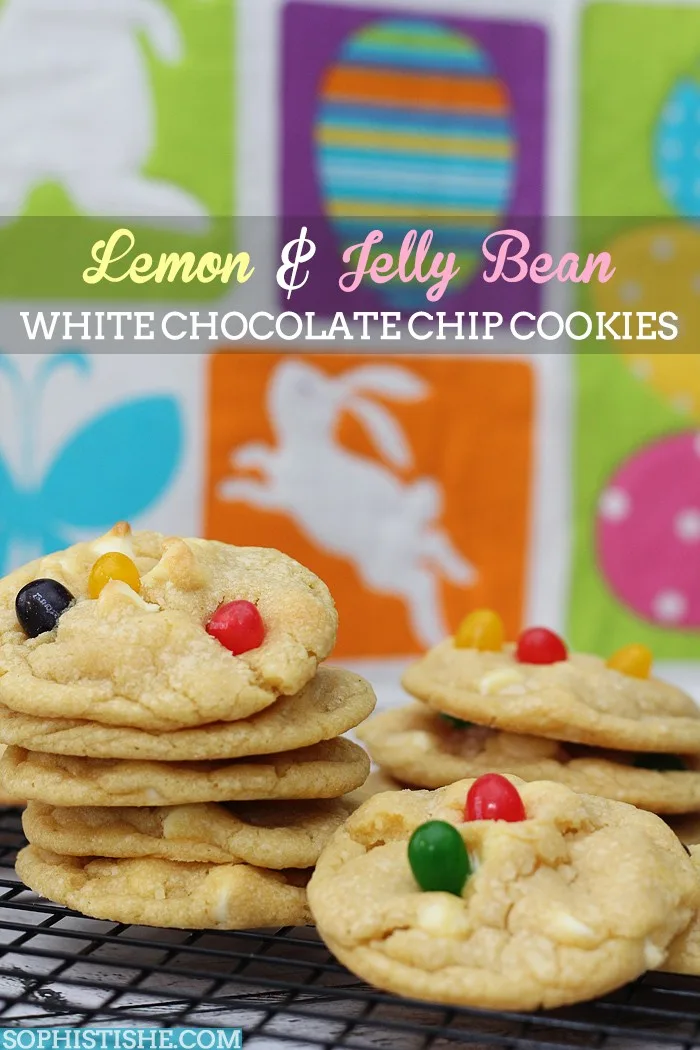 With Easter around the corner, I found myself in the kitchen concocting a special treat. I was challenged by Walmart to create a recipe using a few seasonal products that made for an interesting combination. Of the products offered to me, I chose Duncan Hines Signature Lemon Supreme Cake Mix and Starburst Jelly Beans. I enlisted the help of white chocolate to balance the two, baking a cookie that's surprisingly delicious. Just imagine biting into a sugar cookie with a hint of lemon, some white chocolate throughout and a jelly bean here and there. Yum.
Both of the boys enjoyed these cookies, dancing in the delight of each bite. Success! I simply can't get enough of them. When I find a cookie I like, I indulge! Be careful with these delectable confections – it's hard to eat just one! Happy Easter!
Some tips that I suggest while baking these cookies:
You must chill the dough! You cannot, will not, shan't skip this step!
Do not crowd the pan or else the cookies may stick together.
It also helps to roll the cookies into balls that are taller than they are wide.
Watch them like a hawk. You want to undercook them a bit so they'll cool/set into perfect soft/chewy cookies.
Lemon & Jelly Bean White Chocolate Chip Cookies
Ingredients:
1 and ¼ cup all-purpose flour
1 and ¼ cup Duncan Hines Signature Lemon Supreme Cake Mix
½ teaspoon baking soda
¾ cup unsalted butter, softened
½ cup granulated sugar
½ cup light brown sugar
1 egg
1 and ½ teaspoons vanilla extract
1 cup milk chocolate chips
Starburst Jelly Beans
Directions:
In a medium sized bowl, sift flour, cake mix, and baking soda making sure there are no clumps. Set aside. In a separate bowl, cream together the butter and sugars on medium speed. Add egg and vanilla and beat until creamy.
Add the sifted flour mixture to the wet ingredients and mix until just combined. Be careful as to not over mix the dough. Fold in chocolate chips.
Cover and refrigerate dough for at least 1 hour or place in the freezer to speed things up. If you skip this step, the cookies will spread into one big cookie. Womp.
Preheat oven to 350 degrees. Prepare two large cookie sheets with parchment paper or foil.
Roll cold dough into balls 1 tablespoon in size and line them on baking sheet. For best results, shape dough balls to be taller than they are wide. Bake for 8-10 minutes. Remove from oven and press jelly beans into the cookies. Bake for another 2 minutes until edges are slightly browned. The key is to under cook the cookies for a soft, chewy cookie. Overcooking will yield a crunchier cookie.
Let cookies cool on the baking sheet for a few minutes before transferring to a wire rack to completely cool.
As a participant in the Walmart Moms Program, I've received compensation for my time and efforts in creating this post. All thoughts and opinions are my own.