This post is sponsored by Yoplait. Thanks for supporting our site partners!
Back to School season is here and it's time to get those lunch boxes together. Whether you're packing lunches and snacks for the kiddos, yourself, or spouse, I think this is a snack hack that you'll never get tired of! This Snack Hack is a super cute and tidy way of preparing delicious snacks for the busy week ahead. Today, I'm sharing how to create a simple yogurt parfait, but the possibilities are endless when using this method for storing and carrying snacks.
Start with enough wide mouth canning jars and empty fruit or applesauce cups you'll need for the week. I prepared three here for show. Set aside your fruit if you wish to use it in your parfait, otherwise use the fruit of your choice. I purchased peaches that worked wonderfully.
Next, you'll need three 6 oz. single servings of Yoplait Original French Vanilla — it pairs well with any combo of fruit and cereal. You can use Yoplait's normal-sized cups for this, but I grabbed one of the Multi Packs, which work great for families like ours because you can get enough individualized servings of yogurt for the week in one package! In addition, you'll need 2 oz. fresh blueberries and the fruit set aside from the fruit cups. Remember you can freestyle this, using any fruit that you'd like. And lastly, you'll need a simple honey flavored cereal. Honey Nut Cheerios make this a delightfully scrumptious snack.
Supplies
3 Half Pint (8 oz.) Wide Mouth Canning Jars
3 Empty fruit cups
Ingredients
3 (6 oz.) Yoplait Original French Vanilla Flavored yogurt
3 (4 oz.) Fruit cups
2 oz. Fresh blueberries
12 oz. Honey Nut Cheerios
First, spoon your fruit in into your canning jars. If you prefer smaller pieces of fruit, you can take a fork and mash it down a bit.
Next, spoon your yogurt into the jar, on top of the fruit and lightly pack it in. You'll be storing the cereal in your empty fruit cups, so go ahead and fill those up with cereal.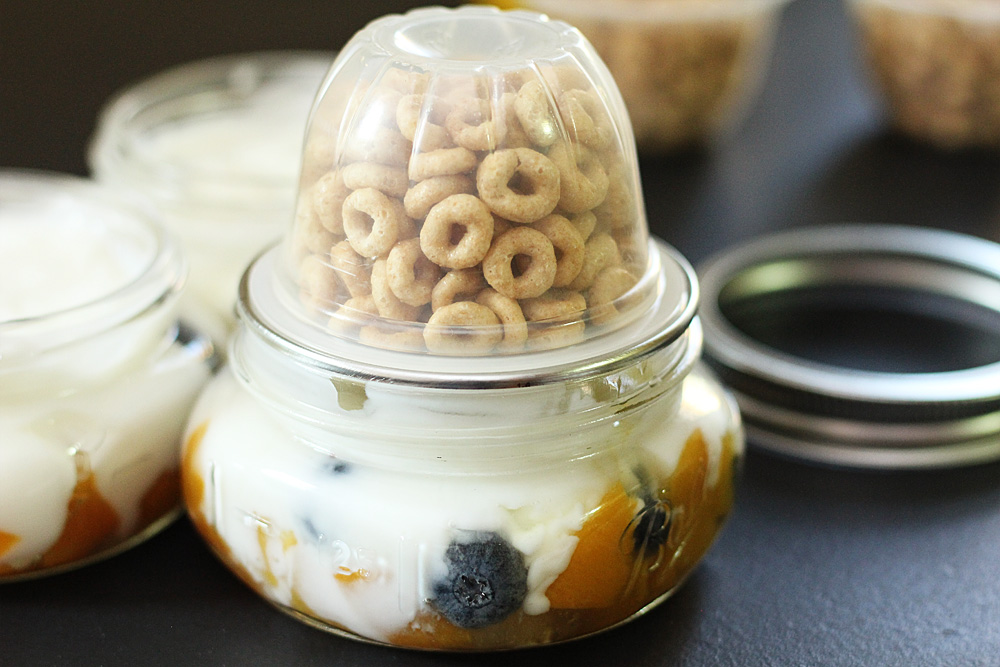 Place the canning jar lid on top of the cereal-filled fruit cups, shiny side down. Holding both the lid and cup together, carefully position them on top of the canning jar. Place the jar mouth on top and screw it on to attach the fruit cup to the mason jar. Pop the prepped parfaits in the fridge and they'll be ready to grab when you pack lunches!
I hope you enjoyed this Snack Hack. If you decide to make these Make-Ahead Yogurt Parfaits in your own kitchen, feel free to leave a comment, or tag me or #Sophistishe on INSTAGRAM or FACEBOOK! Visit Yoplait.com for more snacking inspiration!
Do you have any hacks for packing snacks? Share in the comments below!
Yoplait is inviting you to try all 100+ flavors for a chance to win $100,000! Simply enter the code from specially marked lids at Yoplait.com/100ways and you will be entered for a chance to win one of more than 3,000 prizes. *
* NO PURCHASE NECESSARY. Ends 5/15/17. To play and for Official Rules, visit Yoplait.com/100ways.
To support my blogging efforts and site expenses, I do share relevant affiliate links in my posts. Thank you for your support.