This post is sponsored by Meijer. Thanks for supporting the brands that support Sophistishe!
We recently went through a week and a half of sickness after the holiday break. While I never wish for sickness, I did wish that it would happen over the break so we wouldn't have to worry about school or my work. But no, a week after school resumed, the bug crept up on us and took over us one by one. Fortunately, it's all over and we should all be in the clear until next Winter.
One of the things that provides comfort when stuck in bed with the flu or a very bad cold is a hot bowl of homemade chicken soup. It's so important to eat and stay hydrated while your body is vulnerable and soup tends to be lighter and easy to eat when you feel under the weather. The heat is good for the sinuses and helps knock out those nasty germs, too.
I've never had chicken and dumpling soup and while on the hunt for a good one, I discovered Matzo Ball soup, a Jewish take on the traditional chicken and dumpling soup. This soup hit the spot and earned its place as one of our favorite cold weather and sick day comfort foods.

Matzoball Soup
Ingredients:
Soup
1 tbsp vegetable oil
2 garlic cloves, minced
1 yellow onion, diced
3 carrots, diced
3 celery stalks, chopped
1 chicken breast
6 cups chicken broth (homemade or store bought)
2 cups water
Ground black pepper to taste
Fresh dill sprigs
Matzo Balls
3 large eggs
3 tbsp vegetable oil
¾ cup matzo meal
1 tsp salt
½ tsp baking powder
Ground black pepper to taste
3 tbsp water
Directions:
Mince the garlic and dice the onion, celery, and carrots. In a large dutch oven pot over medium heat, sauté the garlic, onion, celery, and carrots in vegetable oil until the onions are soft and transparent.
Add the chicken breast, chicken broth, 2 cups water, black pepper, and a sprig or two of dill to the pot. Cover the pot with a lid and let the soup come up to a boil. Reduce the heat to low and let it simmer for 30 minutes.
While the soup is simmering, start prepping the matzo ball dough. In a medium bowl, whisk the eggs and vegetable oil together. Next, add the matzo meal, salt, baking powder, and a bit of black pepper to the eggs and oil mixture. Stir until thoroughly combined.
Lastly, add 3 tbsp water and stir until smooth again. Refrigerate the mixture for about 30 minutes or until the matzo meal has absorbed the moisture.
Once the chicken soup is done simmering, carefully remove the chicken breast and shred it with a fork. Return the shredded chicken to the soup. Taste the broth and season with salt to taste.
Once the matzo ball mix has stiffened up, begin forming it into ping pong sized balls. Carefully drop the balls into the simmering pot of soup as they are made. Return the lid to the pot after each ball is dropped into the pot. Once all of the matzo balls are in the soup, let them simmer gently for 20 minutes with the lid on.
Garnish with fresh sprigs dill before serving.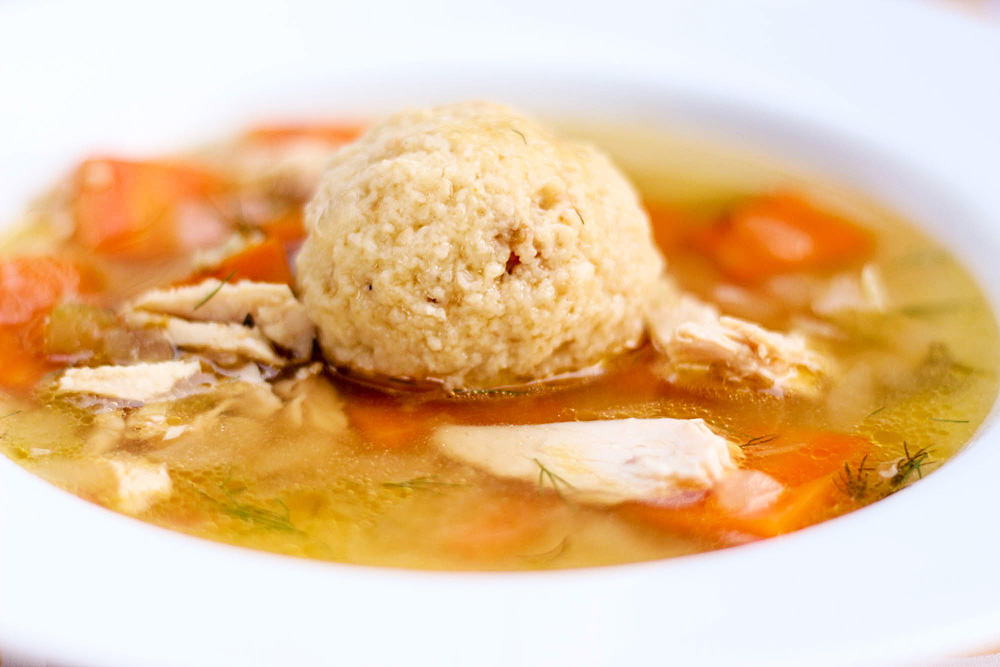 If you decide to make this Matzo Ball Soup in your own kitchen, feel free to leave a comment or tag me on INSTAGRAM or FACEBOOK!
Essential oils also provide comfort on sick days. I was excited to find Nature's Truth essential oils at the Meijer pharmacy. I picked up two of my favorite oils. I love eucalyptus for nasal congestion and frankincense for its calming properties. I found them in the cold relief section, but it may vary in each store.
I hope you all stay healthy and are spared this cold and flu season!
Meijer mPerks Pharmacy Rewards
Earn a reward each time you fill 5 prescriptions. Each time you fill a prescription at Meijer pharmacy, enter your mPerks information at the checkout and your Pharmacy Rewards progress will be updated automatically. When you have filled 5 prescriptions, go to the rewards tab on mPerks.com to clip your reward.
Visit your local MEIJER to start earning additional mPerks on all of your cold and flu season essentials including your favorite pharmacy products!