This post is sponsored by Populum, but the content and opinions expressed here are my own.
As an entrepreneur and mother of three, navigating the everyday on top of commitments is no easy feat. I continue asking myself why I even bother when it's clear that the transition from two kids to three really knocked me off of my game. This season simply calls for intentional partnerships, few and far between. I'm happy when brands who are in alignment with my lifestyle reach out to me because the partnerships feel right, a little less like work, and their products actually help me become a better me.
I've mentioned a few times that I use CBD products. Not a surprise since I'm all about that crunchy, natural remedy life. I started using CBD products when my anxiety became unbearable and I needed relief without playing the waiting game with psychiatrists. Even after the storm, I still keep CBD products on hand "just in case". I've been able to identify my triggers and try my best to avoid things that will overwhelm me, but when you have three kids and deadlines… even if just a few, overwhelm can still take over.
Look at these stickers!
Enter Populum. Populum is a collective of premium hemp CBD products designed to be a part of your daily wellness ritual. Named after the Latin phrase meaning "for the people", Populum's mission is to destigmatize hemp and make pure, high-quality hemp accessible, affordable, and truthful to everyone. From partnering with domestic farms in Colorado to providing third-party test results in every box, Populum is dedicated to bringing hemp mainstream and building hemp's reputation as an essential supplement.
Populum has CBD products for you and even your pets. I received a care package of Populum essentials that I've been putting to good use!
Full-Spectrum Hemp CBD Oil
Full-Spectrum Hemp CBD Capsules
Cold Therapy Hemp Rub
I'm most familiar with consuming CBD by tinctures. It's been said that the body absorbs oil better, so I usually go with a cbd tincture. Hemp is known to have an offputting taste, but Populum is delicious. The problem with hemp is that it tastes like hemp. Populum is naturally and subtly flavored with orange essence. They've created a fresh flavor that marries the natural properties of the oil extracts from the hemp plant and orange zests.
While I'm partial to tinctures, I do enjoy Populum's Full-Spectrum Hemp CBD Capsules. These are great to have on the go. Need something to take the edge off in a public setting? CBD capsules are a more discreet choice. Not that using a tincture in public is weird or anything. I personally mind the business that pays me, but we all know everyone isn't blessed with that ability.
Last but not least, I received the Cold Therapy Hemp Rub which I requested for my husband, but I ended up using it myself. I've been overdoing it gardening and trying to get the patio together. By the end of the day, I'm worn out and sore. Rubbing my lower back with Populum's hemp rub before bed has provided the relief from the tenderness of a day full of exertion.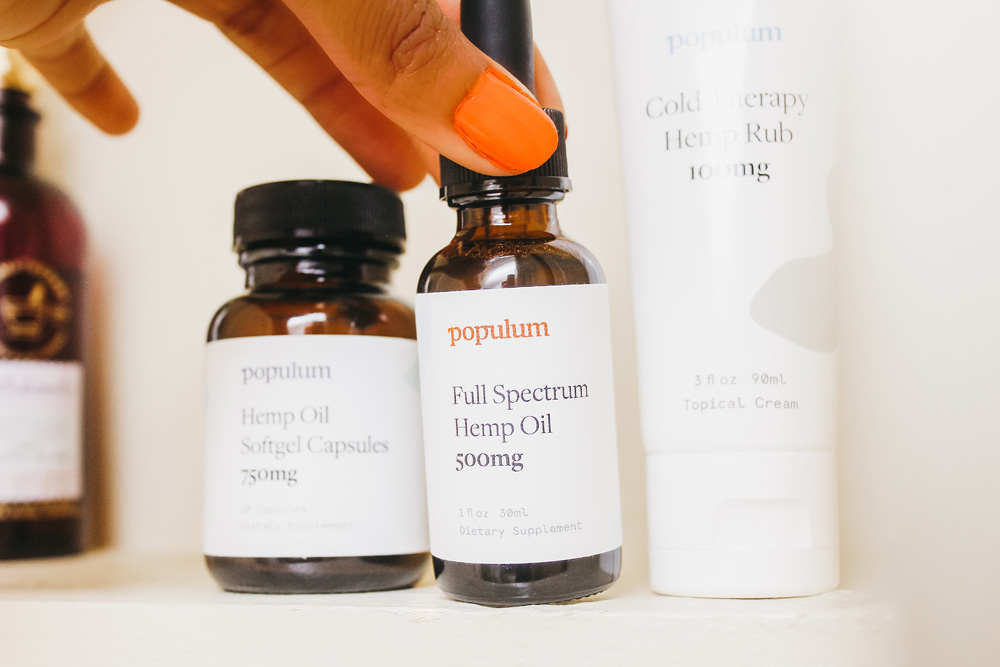 Pick your Populum. Populum offers exceptional CBD products a la carte, as well as monthly subscriptions at 20% off. They also offer a risk-free trial. You get 30 days to try your CBD oil, and if you decide you don't like it, you can return it for a full refund. No sample sizes. No catch. Honestly, you can finish the whole bottle then send it back if you're not feeling it. Give Populum a try. Use code: RISKFREE10 for 10% off!
To support my blogging efforts and site expenses, I do share relevant affiliate links in my posts. Thank you for your support.