I thought that by now I'd be doing more intricate styles on Miss Honey's hair, but she has made it clear that she isn't here for Mama playing in her tresses. On most days, she's rocking a loose fro simply to keep the peace. I usually pin up her bangs or give her a headband to keep her hair out of her face. I mean, less is more, right? And everything's irie.
Well.
Even when I try to do less, this little tiny woman often puts up a fight. On days when I must do a little something to her hair, I have to act FAST and use whatever tactics to keep her from flailing or taking off. I usually let her play in the products and sometimes I have to give her a break no matter if we're just 2 minutes into the style.
Earlier this week, I wanted to put her hair into two piggy puffs and she was over it as soon and I started separating her hair with my hands. Already defeated, I let her go play with some new toys we had just received from Lamaze. We had plans to put them away for the new babies in the family, but Kiki had to inspect them and I think she called dibs on the Mix & Match Caterpillar. So we'll be gifting Freddie The Firefly in a few months and Caterpillar stays. Why yes, I certainly am withholding info. It's what I do, haha.
Akilah loooved the Mix & Match Caterpillar. She's at that age where multi-piece toys are everything and possibilities are endless. She got a kick out of pulling the segments apart and playing catch with me. The girl's got a strong arm! Each segment is designed to stimulate baby's auditory and fine motor skills, from multi-colored ribbons, crinkly textures, and contrasting patterns.
Mix & Match Caterpillar
• Pull segments apart and put back together at random, or match colors!
• Crinkle squeaker for auditory and fine motor skill development
• Offers a fun way for toddlers to practice matching and color recognition
(get it)
Lamaze toys are Baby Loved, Science Proven.
Similar to the Caterpillar, Freddie the Firefly is designed with bright colors, patterns and textures to stimulate all senses. His layered wings include a peek-a-boo mirror for interactive play and multiple textures, shapes and crinkles, and squeaks that encourage baby to explore.
Freddie the Firefly
• Mirror play helps baby learn how to focus, track images and explore the face
• Clacking rings awaken auditory senses
• Fun jingle sound will delight and keep baby entertained, capture baby's attention, and engage baby's hearing
(get it)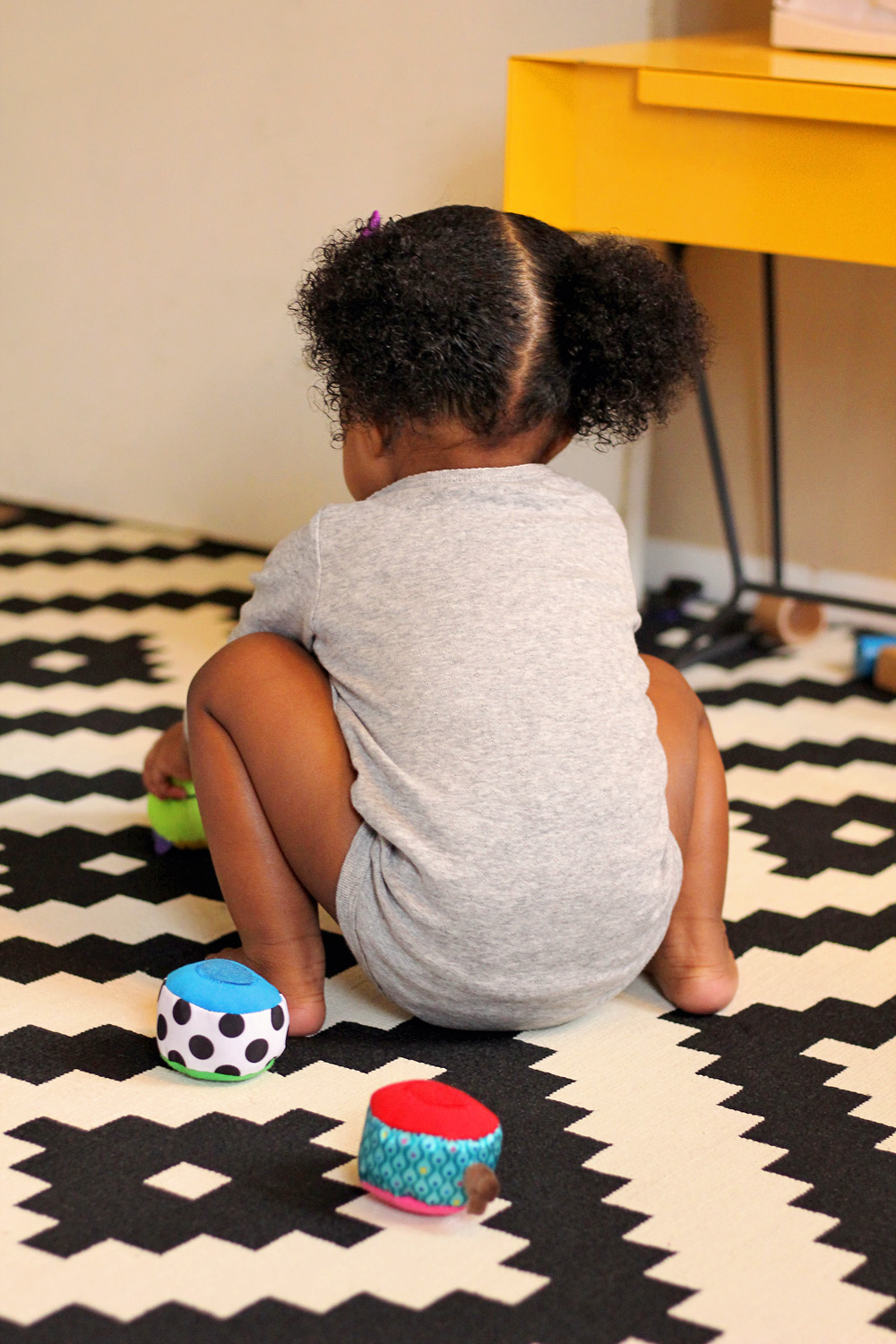 After play time, I was able to finish baby Akilah's hair and all was well over here in Sophistisheland. Straight parts? Fuggedaboutit. Still cute though!
Lamaze makes great first toys. With Easter coming up, they'll make the perfect basket stuffers. Check 'em out if you haven't already!
Shop Lamaze toys!
Mix & Match Caterpillar
Freddie The Firefly
Classic Discovery Book
Gardenbug Gift Set
Stacking Rings