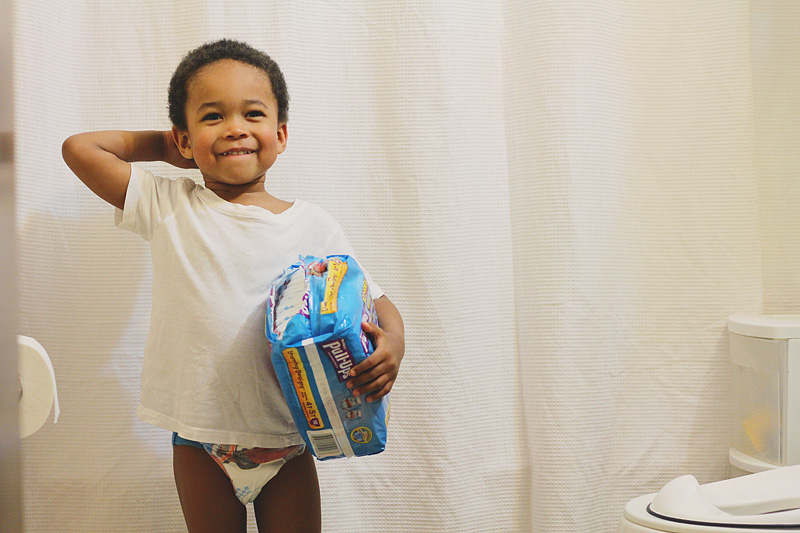 Thank you to Pull-Ups® Training Pants and Dollar General for sponsoring today's post and helping me to set the stage for potty training success!
We're currently in the throes of potty training. I mean we aren't losing any sleep over it, but being done with it all would be such a relief. We're confident that Juicy will be fully trained by four which is when Jayden graduated to undies full time. We've accepted the stage that we're in as our new normal until then, simply taking things one day at a time. We've had our ups and downs. Before baby Akilah was born, Juicy had been showing signs of wanting to train, but exhaustion and the chaos of welcoming a new baby into our home distracted us a bit.
What got Juicy excited to train was new gear; a toilet trainer seat and a step stool. Once they were out the box, he claimed them along with his newfound journey to independence. Next came transitioning from diapers to training pants. We've found that fun training pants help. Whether printed in Cars or stars, Juicy is less likely to go in his training pant because he doesn't want to mess the character/symbol up on the front of the pant. Eventually, we will use this technique with undies too.
Taking things a step further, we've started letting Juicy pick out his training pants so that he takes pride in keeping them dry. We reward him whenever he uses the toilet using coins and small candies like Skittles and Sweet Tarts as incentives. We have a small gumball machine that we've filled with Skittles, so when he goes in the toilet a total of three times, he gets a coin to pay for candy in the machine. Each day, Juicy has something to look forward to. Sometimes, he'll help himself to the toilet and oftentimes, we have to remind him when he's focused playing or bumming around in toddlerdom. Sometimes we're met with groans and protests before and during potty time.
After a really successful week, we can find ourselves in regression wondering what the heck happened. Out of defeat, we've admittedly reverted back to diapers because they're cheaper, but we realize they're a pain to deal with and make it hard for him to go the the bathroom unassisted. Toddlers thrive on consistency and diapers don't teach potty training skills like the ease of training pants. Overall, Juicy is doing great, but he's work in progress. Like many things in life, consistency is key. He'll get there soon enough.
Pull-Ups® has teamed up with renowned child psychologist and potty training expert Dr. Heather Wittenberg to create a method that takes the guesswork out of potty training. Take the Potty training personality quiz for customized advice and tips to guide you through the potty training journey. Also check out the potty training games  and learning tools to help add fun to the potty training process.

Juicy is into Disney characters so Pull-Ups® are a treat for him to wear. For a limited time, Pull-Ups® Training Pants are $2.00 off at Dollar General with DG Digital Coupons!
How to sign up for DG Digital Coupons:
1. Sign up here or Text JOIN to 34898 to begin saving today!
2. Create account and load which coupons you would like to use
3. Visit your local Dollar General to redeem coupons at checkout. Look to their store locator to find your nearest Dollar General!
Happy saving and potty training!
To support my blogging efforts and site expenses, I do share relevant affiliate links in my posts. Thank you for your support.