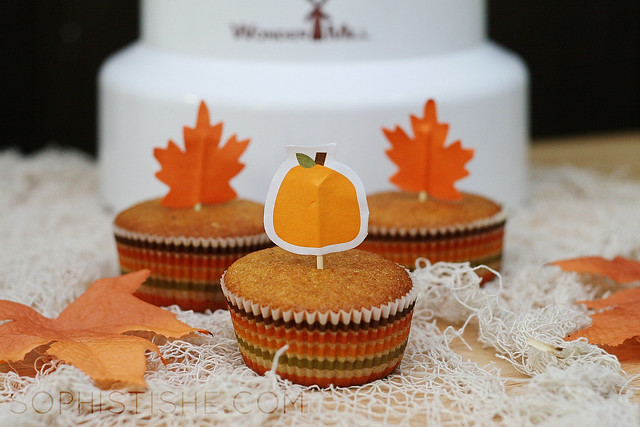 Muffins are a treat that we really enjoy during the Autumn season. Pureed pumpkin is currently everything and is simply divine in just about every hot beverage and baked good. I found a great pumpkin recipe over at Marigold Road and decided to put my little twist on it. They were absolutely perfect and went fast!

Whole Grain Pumpkin Muffins
Ingredients:
1-1/3 cup sugar
½ cup butter
2 eggs
1 cup all purpose flour
1 cup whole grain flour
4 teaspoons baking powder
1 teaspoon cinnamon
¼ teaspoon nutmeg
½ teaspoon salt
¼ cup chia seed
1 cup canned pumpkin
4 tablespoons almond milk
Directions:
Cream together sugar and butter. Add eggs and beat well.
Add pumpkin and milk. Gradually add dry ingredients and mix well.
Spoon into greased or lined muffin tins and bake at 350 degrees F for 20 minutes.
Notes
Adapted from <a href="http://books.google.com/books?id=jTRvNf_QDh8C&pg=PA26&lpg=PA26&dq=colette+a+chapin+pumpkin+muffins&source=bl&ots=cRGpS2JFha&sig=HtGFeKgFbJQrGCYksmSYAvyWK9I&hl=en&sa=X&ei=5lp2UK6yCaWtygHmp4C4Dw&ved=0CDAQ6AEwAA#v=onepage&q=colette%20a%20chapin%20pumpkin%20muffins&f=false" target="_blank">Gooseberry Patch Family Favorites</a>
 Combine wet ingredients
with dry ingredients
for a smooth, creamy batter
that'll make some of the best pumpkin muffins EVER!
KitchenAid and The WonderMill are this season's recipe partners. They've provided me with the appliances featured in this post for recipe development. This recipe has been featured on The WonderMill recipe blog.

To support my blogging efforts and site expenses, I do share relevant affiliate links in my posts. Thank you for your support.