This post is sponsored by Glad® but the content and opinions expressed here are my own.
What do you do on a rainy summer day besides sleep in? Well, I crack the windows and clean! There's something about the cool breeze and the aroma of earth wafting through that inspires tidying and tackling. Kiki and I are spending time at my mom's house, so I've been deep cleaning and helping her get organized. The biggest project that needed to be tackled were her clothes. She and my aunt enjoyed shopping together and fast forward ten years, she still has many pieces of clothing with the tags still on them. She also enjoys thrifting so even after giving some things away, she still had closets and drawers packed full of items she had forgotten about.
I've grown to LOVE purging. There's something freeing about letting physical belongings go. By only having to keep track of the items that we actually wear and use, I free myself from much of the headache that comes with managing a household today where we are taught more is more. I think my mom holds on to some of those ideals, but finds herself overwhelmed when there's too much stuff. I was able to help her make headway one rainy afternoon. We went through two closets and two dressers and put together a total of T E N bags of clothes and shoes to donate to an upcoming rummage sale.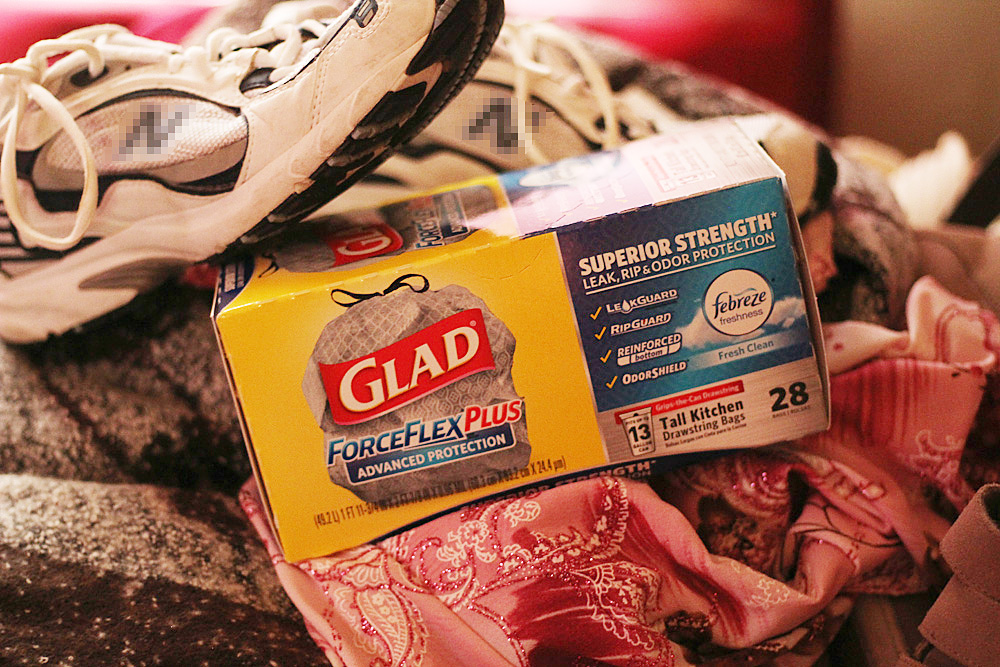 We used Glad® Advanced Protection trash bags during our great purge. I grabbed them at Walmart and I was happy to see that they were much cheaper there by $3.00. I've mentioned my excitement over trying new cleaning and household products before so as you can imagine, I was pretty excited about these trash bags. Well the excitement didn't come until I actually put them to use. I was impressed by their durability and how fragrant they are. Glad® Advanced Protection trash bags neutralize odors with Febreze® odor control for up to 7 days, guaranteed and are made to tackle the heaviest loads with RipGuard™ technology to prevent rips and tears. I was impressed with how these bags handled heavy loads of shoes and heels without ripping. If Glad® Advanced Protection trash bags can withstand the toughest test of air travel, then surely they could handle shoes, right?
This purge was quite the project, but I'm so glad that I was able to help my mom tackle her stuff. She said I put her to work and doesn't know how I do it. The thing is I don't. I purge little by little to keep things manageable so I don't have strenuous projects to tackle. With all of our things in storage (surprise, we've been living that nomad life minus the travel perks), I'm reminded of how very little we all need. So once we move into our new place, I'll probably purge some more… because invigorating!
What projects are you tackling around the house? Doing any purging? Consider using Glad® Advanced Protection trash bags in your next projects as they're tough enough to tackle the heaviest loads!