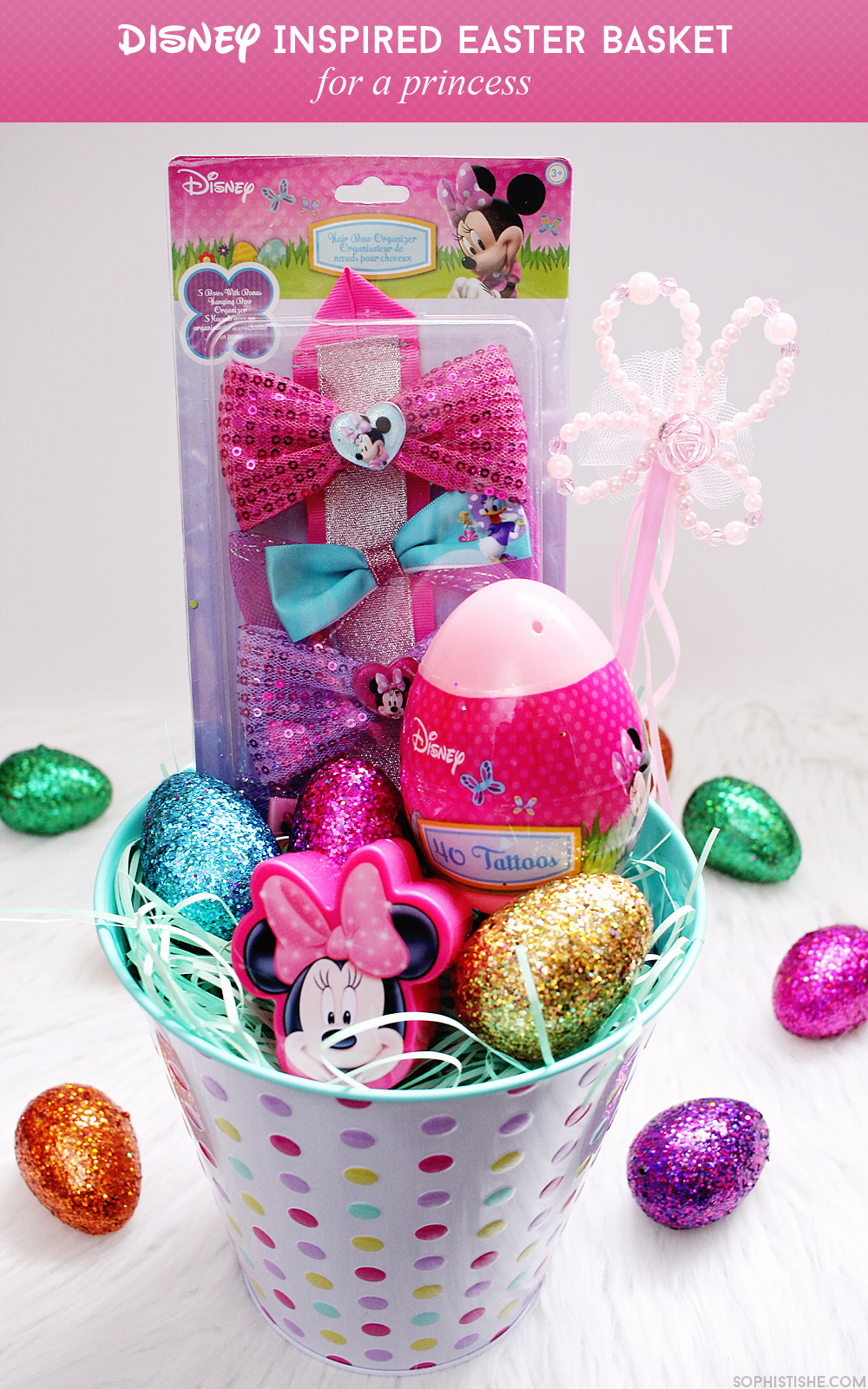 I can't believe Easter is almost here! Where has the time gone? I'm so bad with dates. I tend to often assume that Easter is in April, and I forget that it varies. Thank goodness for Google! Well, it's time to get those Easter baskets together and I'm a little excited this year I have a little princess to shop for!
Still on somewhat of a Disney high, I decided to do a Disney inspired basket. I also wanted share with you guys and gals how you can use Easter as a time to rack up on those inexpensive Disney items and put them away for your Disney trips. Instead of impulsively splurging on souvenirs, you can take some time to build goody buckets for the kids as your plan your vacation. When you return home, you could pretend like they were sent by their magical bffs at Disney.
At Walmart, there were several basket options. I went with a cute spring bucket because I wanted to be able to re-purpose the bucket later on. There were plush Minnie and princess themed baskets, but I felt those were typical, you know what I mean? I just like to do things differently… if you couldn't tell, haha.
For basket fillers, I chose some really fun items that were inexpensive. I spent about $19 total, but many of the items can be portioned out for an additional basket or two. I picked up an adorable beaded wand for the Pixie Princess. It'll be perfect for dress-up or as an accent to her future room decor. It would look lovely in a plant pot. Hair bows are our favorite so I couldn't pass up a Minnie bow set with organizer.
I also grabbed some Minnie shaped trinket boxes/eggs and temporary tattoos that she will enjoy when she gets older. The tattoos could be split up and placed in the three Minnie eggs a split between three baskets; same for the glitter decorative eggs that I just had to grab. They gave her basket so much life. Oh, and how could I forget the grass? I spent an extra few cents on paper grass since we're a tiny bit bougie. LOL!
And now a word of safety: We only used the wand as a photo prop. Akilah does not play with or chew on her wand or any of her basket goodies for obvious reasons. Mmkay?
I hope this 2-n-1 post serves as some inspiration this Easter or as you plan your Disney trip! If you have any fun Easter basket ideas or Disney souvenir hacks, share them in the comments below!
As a participant in the Walmart Moms Program, I've received samples and compensation for my time and efforts in creating this post. All thoughts and opinions are my own.
More Easter Inspiration!