This post is by Brittany of Clumps of Mascara.
Science and I have a rocky past. Was it 10th grade Biology or 11th grade Chemistry that had me thinking that I should forego any career that required taking a slew of science classes? I can't remember. What I do know, though, is that even though science and I aren't best friends, that doesn't mean that I can't introduce it to my daughter. I want her to pursue whatever most interests her but I love the idea of getting science in front of her while she's this young.
I'm not the only one thinking this because there is an entire subscription box catered to girls and helping them be more acquainted with and possibly love careers in the STEM (science, technology, engineering and mathematics) fields. Um, yes! I am so here for this! StemBox puts science projects right in front of parents and their daughters and having experienced one of these boxes, I know for a fact that there will be more of these in our future.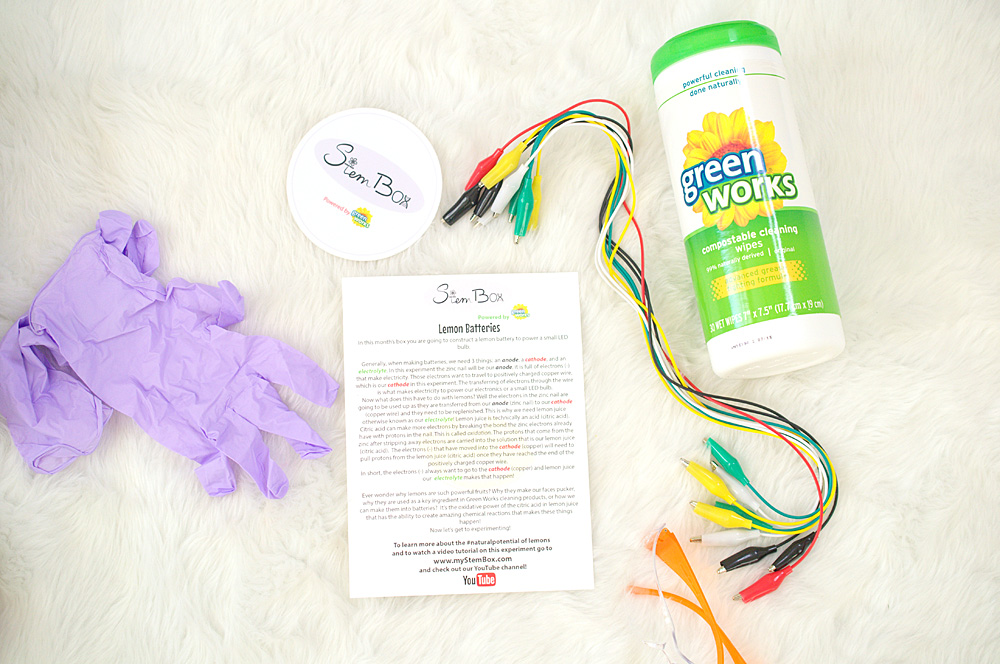 What's not to love about a science project in a box?
StemBox lays everything out so nicely and with the card that comes in the box, you are more than prepared to start your project. This box included supplies that would help us construct a lemon battery.
Truthfully? I was more excited about this than my daughter was. While the anode, cathode and electrolyte verbiage went over her head, we were both thrilled to connect our alligator clips to the zinc nails and copper wires. My daughter was such a big help and it was so cute watching her face light up as managed to get our LED bulb to flicker. I mean, who knew that that fruit could generate enough power to get a light to light up?
"That's science, baby!" I tell her. "You're a scientist."
"I am a scientist, mama!"
She felt it and that smile plastered on her face meant the world to me.
I guess it really is that easy. If we can continue making science interactive and fun for our girls, who knows what will happen? GreenWorks understands the importance of this and since they power StemBox, they're helping inspire girls and women all over to reach their highest potentials. This works for me! GreenWorks is not only helping me clean my home thoroughly and efficiently, but they're inspiring my tiny human.
Know a girl between the ages of 7 and 13? Gift them with a StemBox! Pricing is incredibly affordable but more than anything, you're instilling something fun and exciting to a young girl. You're telling her than she can do anything and that careers in science and engineering aren't just for men. We NEED this and I'm so glad that StemBox and GreenWorks understand how important this is.
No more random birthday gifts for my baby cousins and goddaughters. They will all be getting a StemBox. Gotta love a subscription box that takes the guesswork out of what to get a young girl these days.
Now riddle me this….were you into science growing up?
This is a sponsored conversation written by me on behalf of Green Works . The opinions and text are all mine.