I made a delicious and easy Grilled Jambalaya using Johnsonville® Brats as part of a sponsored post for Socialstars. Thanks for supporting the brands that support Sophistishe! #SausageFamily
This July 4th, I'm all about quick and easy ways to celebrate the holiday without overexerting myself. In my last July 4th post, I shared flag inspired fruit kabobs as a simple way to add a festive and fun touch to the holiday. Today, I'm excited to share a quick meal idea that will be sure to wow guests at your upcoming Independence Day gatherings.
Jambalaya is a dish that I used to make years ago, but I stopped because my stove top method took over an hour.  So imagine my excitement when finding out that I could grill up a batch in 30 minutes! Seriously? And it's SO SO good! Johnsonville® Andouille Brats are the stars in the recipe. What Jambalaya dish is complete without Andouille? You can also find these brats in many different flavors such as Original, Beef Hot, New Orleans, Cheddar, Hot 'n Spicy.
Easy Grilled Jambalaya
Ingredients:
4 Johnsonville® Andouille Brats, sliced into medallions
1 cup baked chicken, shredded
1 cup onion, roughly chopped
1 cup bell peppers, roughly chopped
½ cup celery, sliced
1 cup okra, sliced
2 tbsp minced garlic
2 tbsp olive oil
2 tbsp fresh parsley, chopped
1 lb peeled, and cleaned jumbo shrimp (shell on or off)
2 tbsp. brown sugar
1 tbsp olive oil
2 tsp. smoked paprika
¼ tsp Tabasco sauce
8 tbsp butter, sliced in fours
Salt and ground black pepper to taste
Garnish: Green onions, chopped
Directions:
Preheat grill to medium heat.
In a large bowl, toss the sausage, chicken, vegetables, garlic, 2 tbsp olive oil, parsley, salt, and pepper together. Set aside.
In a separate bowl, combine the shrimp with the brown sugar, 1 tbsp. olive oil, Tabasco sauce, salt, and pepper. Set aside.
Cut 4 pieces of heavy duty aluminum foil in 18x18 inch sheets. Place on a flat surface and divide the sausage mixture evenly among the foil pieces. Then, top each sausage mixture with a fourth of the shrimp. Place 2 tbsp of butter on top of the shrimp.
Fold and crimp each piece of foil over the jambalaya to tightly seal the packets.
Place the packets on the grill and cook for 8-10 minutes or until puffed. Remove them from the grill and let them sit for 2-3 minutes before opening and spooning the jambalaya over the cooked rice. Garnish with green onions.
Notes
Add a 1 oz can of Rotel for an extra kick.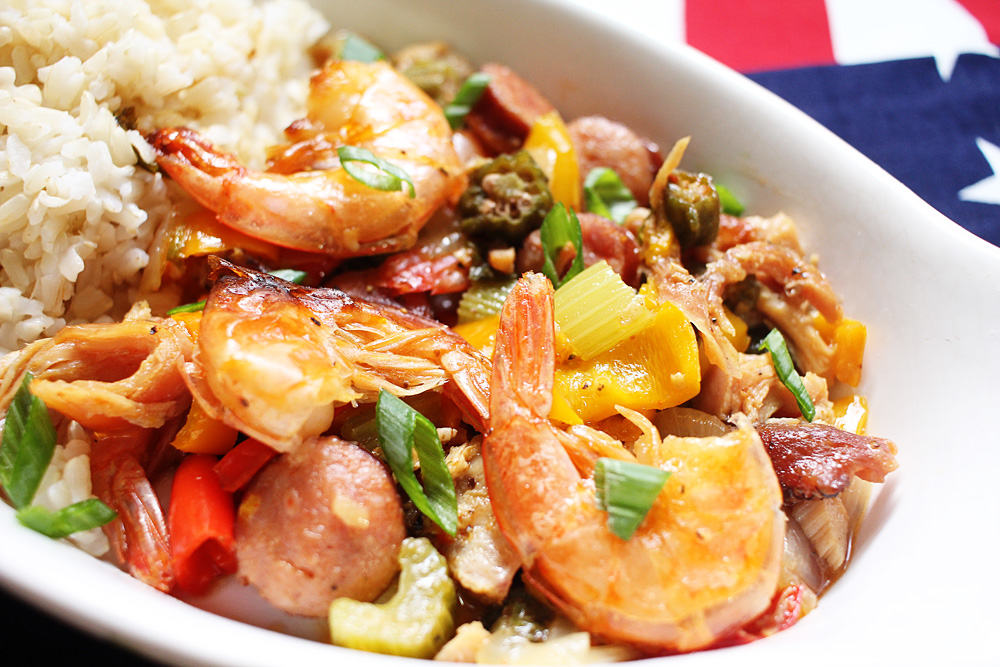 I hope you enjoyed this easy cookout meal. If you decide to make this
Grilled Jambalaya
in your own kitchen, feel free to leave a comment or tag me on 
INSTAGRAM
or
FACEBOOK
! Have and happy and super-safe 4th!
For more grilling inspiration and Johnsonville® product information, follow them on FACEBOOK and TWITTER!
To support my blogging efforts and site expenses, I do share relevant affiliate links in my posts. Thank you for your support.