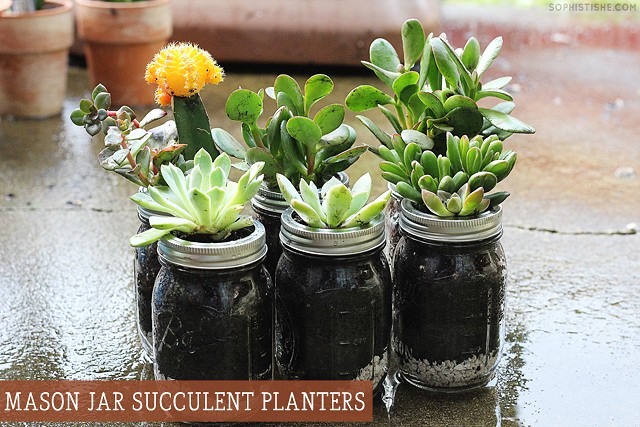 Succulents. They are irresistibly pretty and all the rage right now. I, having such a green thumb, decided it was time to start my own succulent collection. They're a low-maintenance way of bringing a bit of Summer indoors. Since they are very modest in size, they can be spread throughout the house, resting on shelves, hanging from various heights, or attachments. There's plenty of room for creativity.
While browsing the plant section at Walmart, I came across a variety of succulent plants. It took some restraint trying to resist buying them all. I did pick up whatever broken pieces I could find so that I could root them ;-). While out, I also picked up a few things to pot the succulents. I have tons of mason jars, so I decided I'd use them as planters. Potting was a piece of cake… I actually did it in the pouring rain. It was therapeutic.
WHAT YOU NEED
An Assortment of Succulent/Cactus Plants
Cactus Potting Mix
Activated Carbon
Gravel or Pebbles
Mason Jars
Instructions
Fill mason jars with gravel, perhaps an inch high. Add an inch of carbon. You can do 1/2 inch on top of the gravel, then 1/2 inch in between the soil. Whatever you prefer. Add potting soil. It doesn't take a lot since the plants are already surrounded in soil. Screw metal bands on to the jars before placing the plants inside of the jar. Add plants and potting soil as needed.
I attached one of my succulent plants to our banister using a zip tie. I tied some rope around the jar for an added touch. The rest of the succulents went on shelves and Jayden's little desk. I'm sure I will rearrange them, but for now I'm content. 🙂
Any succulent lovers out there? What are some of your favorite ways to display them?
More Succulent Inspiration!
Pin It On Pinterest!
To support my blogging efforts and site expenses, I do share relevant affiliate links in my posts. Thank you for your support.