After doing a lot of intro and retrospective thinking, I've realized that I was born to create. My earliest years were spent with cameras in my hands, polish on my nails, fingers handling tiny beads and wire gauge, and musical instruments in tow. My knack for Digital Design and Photography took off once I got my first computer. Digital Art was something I grasped pretty quickly but the physical crafty/DIY stuff that I do here on Sophistishe took me some time. My very first projects weren't as pretty or Pinterest-ready. It took years of practice and scouring resources to develop skills and techniques that I now earn a living from by sharing with you.
One of my most successful projects to date recently made Dwelling Gawker. It was such a proud moment. There's nothing more freeing than being able to have fun creating a better life for my family on modest means. When you don't have money to delegate to niceties, you are challenged to be creative with what you have. Recipes get a little interesting, you cherish leftover anythings, and the ability to re-purpose items.
Tell me you aren't creative and I will tell you to stop with the lies and fallacies.
You is kind. You is smart. You is creative.
Resources like the The Ultimate DIY Bundle help keep my creative juices flowing. I can't wait to dig in to the interior design courses because I still feel like I'm doing it wrong. I think I've gotten the hang of bedroom decorating. Now, I'm declaring our living room my next project. I spend way too much time rearranging the furniture. I just need to start over because it's driving me batty.
The Ultimate DIY Bundle is an instant go-to library for a whole range of carefully curated DIY and crafting eBooks and eCourses. There are projects that the whole family can get involved in – from photography and home decor to chalk pastels and sewing.
For the crazy low price of just $34.95, you get access to a carefully curated library of over 76 eBooks and eCourses from leading DIY and crafting bloggers – enabling you to pick a project and jump straight into it with confidence. It's the perfect tool to skip the information overload and throw yourself straight into a new activity.
Topics in the bundle include:
Home decor
Furniture painting
Photography
Chalk pastels
Handmade gifts
Homemade skincare products
Cake decorating
Photography and photo-editing
Paint colors and interior design
…and a whole lot more (76 eBooks and eCourses in total) – to help you be inspired or get started with your next DIY or crafting project!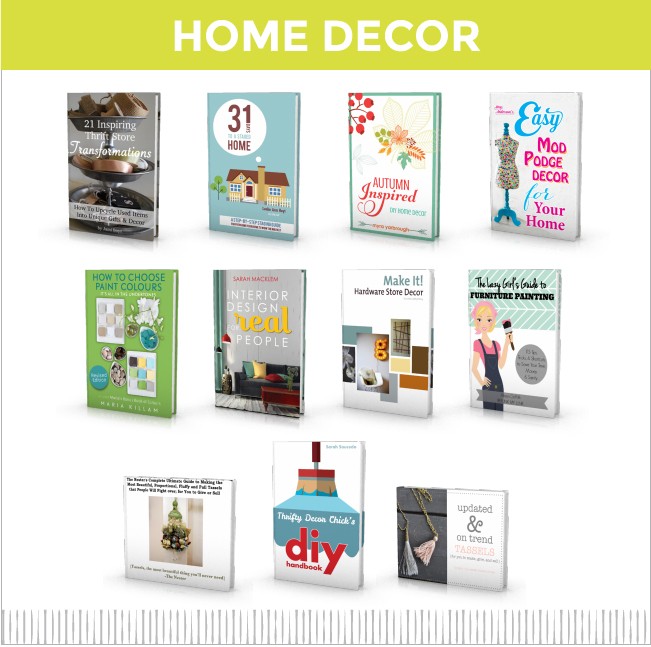 You can buy with complete confidence because you're covered by the Ultimate Bundles 30-day money-back guarantee. That means you have a full 30 days to enjoy all the eBooks and eCourses in the bundle, and if you don't think they provided enough value, you'll get a full refund.
Not only that, but The Ultimate DIY Bundle comes with 5 awesome bonuses, worth over $150. That's 3x the price of the bundle alone! These include…
A free $15 Store Credit PLUS 8×10 Art Print from Hope Ink ($43 Value), a free online class from Craftsy (up to $60 Value), free $15 store credit to Fawnsberg.com, a free sewing pattern PLUS a Premium Video Class from UpCraft Club ($19.99 Value), and free, full digital copies of Where Women Create Magazine and Greencraft Magazine ($20 value) from Stampington and Co.
So, don't miss your chance to grab The Ultimate DIY Bundle, and get 76 incredible eBooks and eCourses for just $34.95.
Sale Over! Sign up to be notified of future sales!
I have included affiliate links to the Ultimate DIY Bundle. Each purchase helps me continue to live out my creative dreams while supporting my family. Read the fine print about this bundle and read the answers to frequently asked questions about the bundle. Happy making and doing!